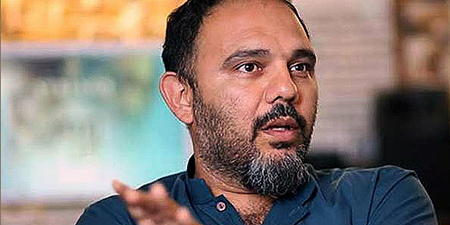 JournalismPakistan.com January 01, 2020


ISLAMABAD—Filmmaker Jamshed Mehmood has said that his rape allegations against CEO of Dawn Hameed Haroon have nothing to do with the paper's tussle with the establishment, and he was not against the daily.
In an interview with VOA, the filmmaker popularly known as Jami said: "I will never go against Dawn, no matter what."
To a question of aiding or abetting the establishment, he said all his life and all his work was marked by being anti-establishment, but he called himself a strong nationalist.
Jami is currently in America. He said that after he named his alleged rapist, who is a powerful individual, he left Pakistan on the advice of well-wishers.
He said that three months back, when he made the rape public but did not name the media tycoon, he was not mentally prepared for the backlash. He pointed out that one had to understand that he was coming out against a powerful individual who is the president of the All Pakistan Newspapers Society (APNS).
He said that known journalists, including the team of DawnNews program Zara Hut Kay, are quiet.
When asked about the timing of his allegations and how these may help Dawn's detractors, especially when there was pervading censorship on freedom of expression, Jami said he failed to understand this theory. "Should one continue to lie, just because by speaking truth, someone else can take advantage?" He said he did not want the issue of rape to be hijacked by anyone.
He also complained that when Dawn published the story about his allegations, the paper published the statement of Hameed Haroon but did not seek his version.
On what the future holds for him, Jami said he would review what legal action Hameed Haroon takes, adding he would come back to Pakistan.
Jami said he was already facing defamation cases related to the Metoo movement. "Now that I have taken the plunge, I have to face it."
Asked about evidence, Jami said in the Mukhtaran Mai case, there was evidence, the accused were sentenced, and then they were released. However, he added that in Pakistani law, there is a charge of sodomy for males and not rape.
He likened his case to the allegations of sexual harassment against Harvey Weinstein, adding that the victims came forward with their stories months and years after they were molested or raped.
Jami was clear that the coming days would not be easy for him, as all the journalists had gone very quiet.