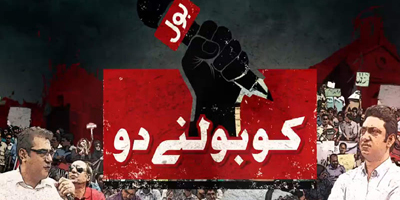 JournalismPakistan.com May 18, 2016


KARACHI - BOL News and its parent company Axact Wednesday marked one year of injustice and victimization against the media group that prevented the channel from hitting the airwaves and rendered thousands of employees jobless.
It was on May 18, 2015 when the government through the Federal Investigation Agency (FIA) began bulldozing the two organizations after allegedly teaming up with some media houses. However, the BOL Action Committee made it clear Wednesday their struggle to have BOL unblocked will continue come what may.
When Axact, an IT Company, founded BOL, Pakistan's biggest media group in 2013 aiming to free the media from the shackles of anti-Pakistan seths and to give global-standard facilities to journalists – Axact/BOL chief Shoaib Sheikh did not have any idea what lay in store. It was a rocky road ahead.
A big conspiracy was hatched by rival media houses that not only shattered Sheikh's dream of freedom of press but also left 30,000 employees jobless.
The problems for BOL began when a New York Times story claimed Axact was involved in selling fake degrees to students. Soon afterwards the government sprang into action and FIA without any evidence and sans adequate legal course shut down Axact offices, and froze its bank accounts. Shoaib Sheikh and his top managers were arrested. All of them remain behind the bars without any legal course of action.
BOL Action Committee says Axact was targeted only to stifle BOL's voice. Axact had been working transparently for last 18 years earning billion of rupees for the national exchequer. A US court recently declared that Pakistan leading IT Company was never involved in any kind of illegal activities, the committee said.
It pointed out that the PML-N government used state-force blindly against BOL. Pakistan do not have laws against cyber crimes hence FIA had to take action only under the clause of fraud i.e. PPC-420 - punishable by one year in prison or (by) a fine of Rs 1-5 billion alone. Despite this, Shoaib Sheikh and his team members have been in jail for the last 12 months.
The action committee said that FIA official Saeed Memon was acting as a plaintiff, investigation officer and even as a prosecutor since not a single person had so far come out to register legal complaint against Axact.
There have been countrywide protests from time to time to have BOL restored. BOL did not surrender and decided to wage a legal war for its rights. However, the government it is alleaged has again been forcing lower courts to delay hearing of cases against Axact for as long as possible. In the past one year 10 judges have distanced themselves from Axact cases for reasons not known.
On the one hand Nawaz government has been influencing the lower courts to sit on Axact cases, on the other hand its pet media has left no stone unturned to continue its baseless yet vicious propaganda against BOL and Axact, the action committee says.
Finally BOL approached the Supreme Court having witnessed Nawaz government's influence on lower courts and in initial hearings the SC ordered FIA to vacate Axact offices within one month having completed its forensic audits.
Political, social and public circles wonder why organizations claiming to work for press freedom in the region continue to stay mum over BOL/Axact issue.
Related posts from JournalismPakistan.com Archives:
Resignations at BOL: Conscience or opportunity?
Let BOL speak: Journalists protest against 'seth media'
Fake degrees operation likely providing financial fuel for BOL: New York Times