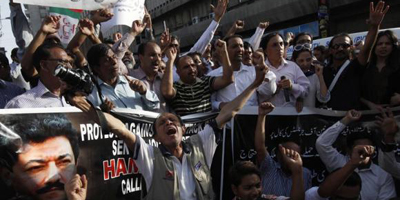 JournalismPakistan.com April 24, 2014
ISLAMABAD: A leading TV journalist who was shot at least three times in Karachi said Thursday he "felt threatened" by intelligence agencies in the days leading up to the attack.

The shooting of Hamid Mir, host of current affairs show "Capital Talk" on top-rated channel Geo, has led to a bitter row between the broadcaster and the military. The defense ministry has demanded Geo be taken off the air for broadcasting claims by Mir's brother that the Inter-Services Intelligence (ISI) agency was behind Saturday's attack.

Mir is still recovering in hospital but his brother Amir Mir read a statement from him on Thursday evening saying intelligence officials had visited him a few days before the shooting to tell him his name was on an unspecified "hit list".

"I insisted that they should let me know about the people who had prepared this hit list, but they did not reveal that," Mir's statement said.

"I told the intelligence officials who came to my house that in present conditions I feel threatened by the ISI."

No-one has claimed responsibility for shooting Mir, who escaped another assassination bid in 2012 when a bomb was found attached to his car.

The Pakistani Taliban said they were behind that attempt and vowed to target Mir again.

The Inter-Services Public Relations (ISPR), the media wing of the armed forces, denied the allegations against the ISI at the weekend, saying they were baseless, and condemned the attack on Mir.

Mir said he told Geo management about threats against him. He said the threats came from "state and non-state elements".

The media campaign group Reporters Without Borders said Mir had told it on April 7 that the ISI was "conspiring... to cause me harm".

A veteran journalist who interviewed Al-Qaeda leader Osama bin Laden soon after the 9/11 attacks, Mir is probably Pakistan's best-known media figure.

He is known for speaking out against the Taliban and for his willingness to challenge Pakistan's powerful military, particularly its activities in southwestern Balochistan province, where it is accused of rights abuses.

"ISI is annoyed because of a program of Capital Talk during the long march of Baloch missing persons leader Mama Qadeer Baluch," Mir's statement said.

"I am also aware that ISI is annoyed because of my criticism on secret agencies role in politics."

The defense ministry's complaint about Geo accused the channel of a "vicious campaign libelous and scandalous in nature", saying they were trying to undermine an important state institution.

On Thursday Sheikh Ijaz, the secretary general of Cable Operators Association of Pakistan, told AFP that transmission of Geo had been blocked in some residential areas managed by the military.

But he said there had been no general order from the Pakistan Electronic Media Regulatory Authority (PEMRA) to interrupt the channel's transmission.

The row comes at a delicate time for Pakistan's civilian-military balance, with former army chief general Pervez Musharraf on trial for treason.

The country has been ruled for more than half its life by the military, most recently under Musharraf, and the armed forces still hold great influence.

But Pakistan's freewheeling private media, liberalized by Musharraf, has increasingly shown itself willing to challenge the military, once considered off-limits to criticism. - AFP