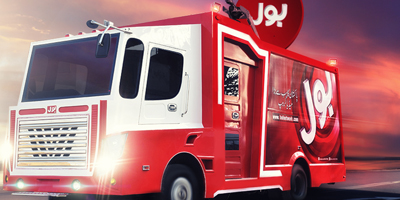 JournalismPakistan.com November 08, 2014
ISLAMABAD: Claiming its DSNG vans would revolutionize outdoor broadcasting in Pakistan, the BOL Television Thursday unveiled the state of the art armored vehicles.
BOL, Pakistan's newest media group said that by launching these vans, it had taken a "momentous step towards becoming a world leader in broadcast technology."

The group reported on its website that its DSNG vans come with multiple wired and wireless cameras as well as remote controlled multi-copters that give high quality aerial views and ensure viewers get comprehensive coverage of every event.
The vans have been designed using superior grade equipments with the help of ultra-modern technology. They are fitted with a mini -studio built with acoustic insulation that provides sound-proof setting to conduct exclusive interviews. They are also fitted with chroma-capability that brings the best viewership experience.

The group said its news vans were armored vehicles to ensure safety of field staff as well as guarantee maximum maneuverability. Extensive measures have been taken to ensure that the vans are fire-proof.
Additionally, the vans come with comfortable seating arrangements that simultaneously accommodate production and editorial teams to bring prompt and high-quality live coverage.
Photo courtesy: bolnetwork.com