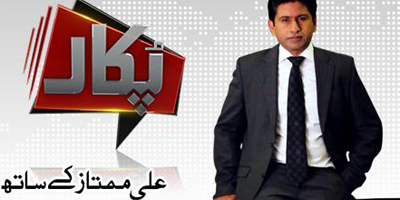 JournalismPakistan.com January 08, 2016


ISLAMABAD: Neo Television has been asked to exercise self-regulation after airing what the Pakistan Electronic Media Regulatory Authority (PEMRA) said were highly controversial and provoking statements.
The comments were made by politician Faisal Raza Abdi during the program 'Pukaar', hosted by Ali Mumtaz on December 26, 2015.
PEMRA said the comments maligned Jamaat-i-Islami and the government. It quoted Abdi as having said: "The Sri Lankan team was attacked through the help of office-bearers of Jamaat-i-Islami. The attack instilled fear in other teams....we are selling our respect ourselves....If someone thinks that by weakening the army, he himself would become strong, he is mistaken. Weakening the army means helping Daesh emerge in Pakistan. This is what the politicians are doing....."
The authority said airing of such content was in violation of its rules and Electronic Media (Programs and Advertisements) Code of Conduct 2015.
The program and the statements seemed an attempt to undermine Pakistan's relations with friendly countries at a time when efforts are being made to ensure conducive environment for both local and foreign investments and to revive international cricket in the country, PEMRA said.
It advised the channel mangers to refrain from telecasting such content and warned of action in case of any violations in future.