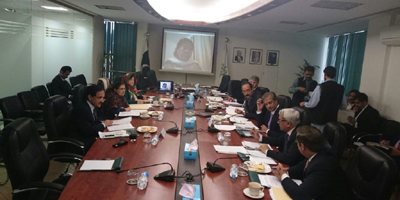 JournalismPakistan.com February 10, 2016


ISLAMABAD - The Pakistan Electronic Media Regulatory Authority (PEMRA) Wednesday suspended licenses of Royal and Sohni Dharti Television channels.
Royal TV was punished for not paying the required fine and failing to air an apology after telecasting vulgar and abusive remarks against prominent anchor Mubasher Lucman in two talk shows last November.
On the other hand Sohni Dharti was penalized for being nonoperational for almost two years without any reason or approval. This is a violation of Section 28 of PEMRA Act.
These decisions were taken at PEMRA's 109th meeting in Islamabad.
The Council of Complaints, Lahore in its meeting last month had recommended a fine of Rs100,000 on Royal TV for the abusive remarks against Lucman during the program Issue of the Day aired on November 25 and 26, 2015.
Suspension of the channel's license and transmission was recommended by the Council if the fine was not paid within 15 days. Since this did not happen, the decision was approved Wednesday. The license will remain suspended until the authority's decision is complied with in letter and spirit.
Meanwhile, the case of revocation of Rohi TV's license was referred back to the Council of Complaints for review.
PEMRA approved the change in management of Urdu1 and Neo TV channels at their own request. It also approved transfer of license of DawnNews English from Aurora Broadcasting Services to City News Network Limited in the name of City 41.
Image courtesy: PEMRA
Relevant post from JournalismPakistan Archives:
PEMRA's show cause notice to Royal TV