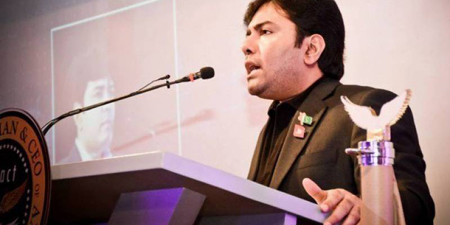 JournalismPakistan.com January 27, 2017


ISLAMABAD – The Pakistan Broadcasters Association (PBA) Friday submitted a complaint with the Kohsar Police Station, Islamabad, seeking registration of FIR against BOL News CEO Shoaib Ahmed Shaikh (pictured) and Executive President Dr. Aamir Liaquat Hussain.
The complaint said that BOL TV Network is not a member of PBA and has been spreading hate and malicious statements about its member channels and their management and employees.
The electronic media regulator PEMRA Thursday banned Dr. Aamir and his program for preaching hate. However, the Sindh High Court reportedly overturned that decision Friday.
Also Friday, PEMRA served a show cause notice on BOL News after it defied the ban Thursday hours after it was imposed.
"Mr. Shoaib Shaikh, the chief executive of BOL TV Network/Axact is already being prosecuted for conducting a fake degree business across the world from Pakistan," the PBA said in its complaint.
"Because of this international scam….Mr Shoaib Shaikh has apparently developed animosity against the members of the Complainant and is using his network as a tool to spread hate…"
Meanwhile the PBA Thursday condemned the hate speech and incitement to violence by BOL and Aamir Liaquat Hussain, host of program Aisay Nahi Chalay Ga.
"In the past also Aamir Liaquat has been accused of hate speech and incitement to violence and the UK government has banned his entry related to similar reasons," PBA said in a media release.
It was not immediately known if an FIR had been registered. However, a separate FIR against Dr. Aamir was registered by Rawalpindi Police Thursday for making hate speech and threatening the life of Jibran Nasir, an activist and lawyer.