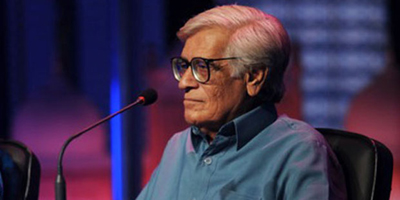 JournalismPakistan.com June 22, 2012
KARACHI: Obaidullah Baig of Kasauti fame, who had been ill for a long time, passed away Friday morning in Karachi.

He was an eminent scholar, television host, Urdu writer/novelist, columnist and journalist.

In the 1970s and 1990s he teamed up with Iftikhar Arif and then with Ghazi Salauddin for the famous PTV quiz show Kasauti. For his achievements in the Pakistani media, he was awarded the President's Award for Pride of Performance in 2008.

Baig migrated to Karachi from Rampur, India after partition.

He leaves behind his wife and three daughters. His funeral was to be held Friday in Karachi.

In April, the Idara Qalam Dost had hosted a ceremony at the Governor's House in Karachi to honor this great man. There he told the gathering that included speakers Iftikhar Arif and Sindh Governor Dr Ishrat-ul-Ebad, that he had been a television producer for more than 30 years and wanted to become a journalist from a very early age.

He also talked about his novel Rajput which was published last year.