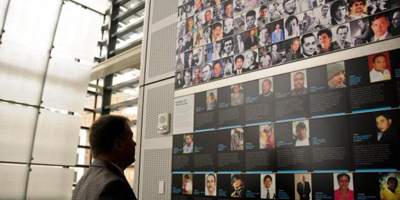 JournalismPakistan.com May 14, 2013
WASHINGTON: The funeral toll pierces the hall like the dying shriek of each of the 82 journalists whose names were read out at a memorial re-dedication at the Newseum in Washington Monday. Seven Pakistani media men were among those honored, says a report in
Pakistan, 'one of the deadliest countries in the world for journalists,' saw another seven journalists killed in 2012 in relation to their work. Their names were read out and their pictures flashed on a screen as they were accorded space on the Newseum's memorial wall – built to honor journalists killed in the line of duty. The wall so far features 2,244 journalists from across the world, killed over the years.
The names of Pakistani journalists including Rehmatullah Abid, Mukarram Khan Atif, Abdul Haq Baloch, Razzaq Gul, Abdul Qadir Hajiza, Saqib Khan and Mushtaq Kund, who were killed in 2012 were read out.
The keynote speaker at Monday's re-dedication was journalist Richard Engel, the only Western correspondent to have covered the entire Iraq war and the Arab Spring. He spoke about his kidnapping in Syria, an ordeal he and his production crew had to suffer for five days. Engel also remembered colleagues Marie Colvin and Anthony Shadid, both of whom were killed while covering the conflict in Syria.
As many as 88 journalists were honored on Monday - 82 of them died in 2012, while six other journalists who died and were brought to Newseum's notice in 2012 were also honored.
The Newseum is a 250,000-square-foot museum of news situated in Washington DC, USA.