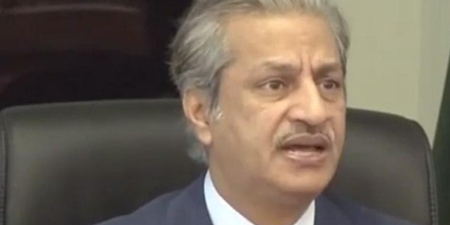 JournalismPakistan.com March 05, 2017


ISLAMABAD –BOL News' bitterness against PEMRA was there for all to see Saturday, the channel airing a short report targeting regulator head Absar Alam.
The over three-minute report says in a case pending with the Islamabad High Court, questions were raised about Alam's appointment as chairman and his role has been suspicious since the beginning.
Alam, said to be quite close to Prime Minister Nawaz Sharif, was named to head PEMRA in November 2015. His critics point out merit was tossed out of the window in appointing him.
PEMRA Friday served a show cause notice on BOL for airing hate comments in its program Qaum Kay Saath Aisay Nahi Chalay Ga, a sequel of the controversial show Aisay Nahi Chalay Ga, banned by the regulator.
"Absar Alam has failed badly in taking any kind of action against Indian content and dishes," the report says, adding the people siding with India's cultural invasion and promoting Indian content were the ones the chairman was trying to protect.
BOL report adds that Alam has had direct contacts with such people as images of Geo-Jang Group head Mir Shakilur Rehman, Najam Sethi and others are flashed on the screen. It alleges Alam has never acted against this India-siding group but instead initiated action against those who opposed Indian content and its cultural invasion.
The report claims there are allegations against Alam he had assured the Supreme Court he would not become the PEMRA chairman. However, "it is a surprise and pity that the very man who moved court for appointment on merit of PEMRA chairman, himself became its head."
It is further alleged that in order to make himself eligible for the position of chairman, Alam prepared tailor-made advertisements in connivance with the government and hence illegally got selected.
The BOL report also points out although the chairman's tenure is for four years, a government notification dated November 11, 2015, says he has been appointed until further orders.
Moreover, the report mentions allegations of Alam abusing his authority, and getting tailor-made notification about his salary and other perks issued despite the case being in court. It claims his salary and perks and privileges were increased several hundred times.
A decision on Alam's 'illegal' appointment would come soon and would be a blow to those promoting Indian content, the report says in conclusion.
In January, BOL accused Alam as being biased and working to protect the "Neela Peela" channel (Geo News).