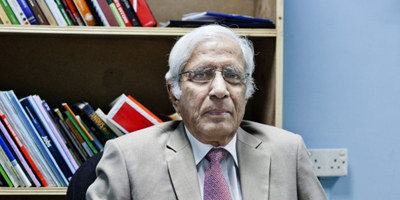 JournalismPakistan.com January 16, 2015
ISLAMABAD: Veteran journalist M. Ziauddin (pictured) and Munizae Jahangir are set to jointly host their first program on Aaj TV from Saturday.
The program 'Spotlight' will be aired on Saturday and Sunday from 8-9pm.
Talking to JournalismPakistan.com, Ziauddin said it would be a current affairs program based on day to day stories and latest developments.
"We won't be driven by topic of the day rather we'll try to choose our own topic to discuss in the program," he said.
He said that in most of the programs they would argue with each other to come up with a solution to a specific problem but "we may also invite a professional on our show to get expert opinion."
The program will feature topics of all kinds including politics, culture and economy. "We will try to resolve the controversies in our program instead of trying to create more," he said.
M. Ziauddin is regarded as one of the pioneers of journalism in Pakistan . His career spans over 50 years as he started reporting with Pakistan Press International in 1964.
He has held numerous prestigious positions and has been Assistant Editor for Pakistan and Gulf Economist, Commerce Editor for The Muslim, and Resident Editor for The News and Dawn.
Ziauddin was also part of the launch team of The Express Tribune and remained associated with the paper as Executive Editor for almost four years.
Munizae Jahangir is also an award-winning senior journalist and documentary filmmaker. She has previously hosted current affairs programs on Express News and DawnNews.