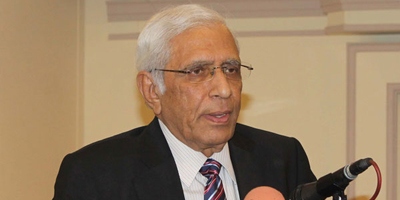 JournalismPakistan.com April 30, 2014
ISLAMABAD: M. Ziauddin, Executive Editor of The Express Tribune and Geo TV presenter Hamid Mir feature on a list of '100 information heroes' published by watchdog Reporters Without Borders (RWB) to mark the World Press Freedom Day (May 3).
Ziauddin (pictured) is the oldest member on the list with the youngest being Oudom Tat, a Cambodian. The list of profiles of heroes has been published for the first time.
The RWB said that through their courageous work or activism, these "100 heroes" help to promote the freedom enshrined in article 19 of the Universal Declaration of Human Rights, the freedom to "to seek, receive and impart information and ideas through any media and regardless of frontiers." They put their ideals in the service of the common good. They serve as examples, it said.
"World Press Freedom Day, which Reporters Without Borders helped to create, should be an occasion for paying tribute to the courage of the journalists and bloggers who constantly sacrifice their safety and sometimes their lives to their vocation," said Reporters Without Borders Secretary-General Christophe Deloire.
"These 'information heroes' are a source of inspiration to all men and women who aspire to freedom. Without their determination and the determination of all those like them, it would be simply impossible to extend the domain of freedom."
The RWB list comprises women and men of almost all ages (25 to 75) from 65 nations with 25 heroes from the Asia-Pacific region, 20 from the Middle East and North Africa, and eight from Europe. Iran, Russia, China, Eritrea, Azerbaijan, Mexico and Vietnam are each represented by at least three heroes.
The watchdog noted that since its launch, Ziauddin's newspaper has adopted an unflinchingly liberal tone, whether reporting on religious extremism or gay rights. This has earned it many critics.
Terming Hamid Mir, a star reporter, TV anchor, terrorism expert and security analyst RWB said his stellar status has won him many international awards but also police harassment, and political hostility.