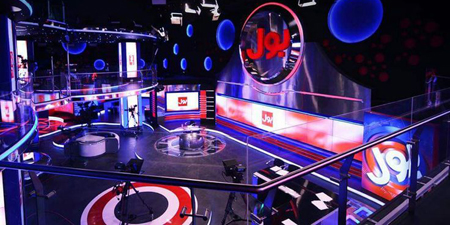 JournalismPakistan.com November 04, 2016 Imran Naeem Ahmad



ISLAMABAD – Just when it seemed things had finally begun to go right for BOL News, they are going wrong somewhat, somewhere.
After more than a year of troubles that saw the channel's CEO and his senior managers languish in jail, the start of BOL pre-test transmission last month came as good news.
However, more than two weeks later, the screen appears to reflect the problems behind scene. Non-professionals from Axact, the company that provides fuel to BOL, are reportedly running the show, claims a senior journalist.
Others in the know point out many journalists and other staff, part of the first aborted BOL attempt to go on air, have not been taken back as promised.
To compound matters, there were reports Thursday that senior anchors Dr Aamir Liaquat Hussain and Mubasher Lucman had quit. The two have conspicuously remained off screen since Wednesday.
This week, a senior producer, who stood by BOL throughout their time of distress, was fired reportedly for not behaving properly with some new staff members. Besides, a promise to pay staff their outstanding dues has not been honored.
But a senior BOL insider Friday refuted reports of Dr Aamir and Lucman having quit. "There is no truth in such reports," he told JournalismPakistan.com.
He did point to some problems the management was having with Dr. Aamir, who wanted to bring his entire team along. "This is not acceptable to the management and it is not our policy," he said. "The ball is in his court, he has to decide if he wants to stay or leave."
The doc of Aalim Online fame is presently in Dubai and will return in a few days.
Lucman, the source said was a valuable senior who had helped build BOL and there were just no issues. "He will be doing his show from Lahore."
The source pointed out that the senior producer Faraz Wajid had to leave for he shouted at new staff members that mostly comprise fresh journalism graduates. "BOL policy does not allow for such behavior."
He also dismissed reports of unprofessional staff running the show. "This is not true. It has to be understood we are in a pre-test transmission phase. We are slowly bringing back staffers who were with us previously and things are only going to get better."
The insider also clarified BOL remained committed to honor its promise of calling back members of its original team and paying them five months of outstanding salaries along with interest.
"We are contacting the old staffers, but the problem is most of them are employed somewhere and would need some time to rejoin us."
However, despite the problems here and there, BOL is sticking to its target of a formal launch before the year ends. "The launch will be this year and we are geared towards achieving that goal."
BOL ran into trouble in May 2015 when it was first about to hit the airwaves. A story in The New York Times claimed that Axact, the parent company of BOL, was involved in selling fake degrees and diplomas.

Subsequently, BOL and Axact CEO Shoaib Shaikh and several of his senior team members were arrested. They were in jail for 15 months before being granted bail.

An additional sessions judge last month dismissed the fake degrees case for lack of enough evidence. The 26 accused were all acquitted.