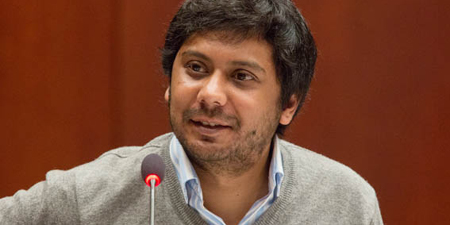 JournalismPakistan.com November 03, 2016


ISLAMABAD: Alleging that dozens of politicians and journalists have become "facilitators" of Americans and Indians, columnist Haroon Rashid Thursday claimed journalist Cyril Almeida (pictured) and Dawn were at fault over the story about the national security meeting.
In his column in Dunya newspaper, Rashid wrote: "I am in no doubt Cyril Almeida and Dawn are guilty." He added the newspaper industry has made it an ego issue. "Committee is about to be formed. Details will be out soon."
The columnist maintained that "two or three official personalities" were also involved in "Dawn leaks". He said the "Dawn leaks" is part of a doomsday campaign about the future of Pakistan by the "facilitators of Indians and Americans".
Rashid wrote he was aware of the "campaign" against him on BBC, referring to an article titled Toyota Corolla mein sajday by Muhammad Hanif, in which the novelist criticized Rashid for saying Almeida had contacts in India.
Almeida's October 6 story - Act against militants or face international isolation, civilians tell military - led to tensions in civilian-military relations. He was briefly put on the ECL before being taken off.
Related Post:
Columnist Haroon Rashid criticized for alleging Cyril Almeida has 'contacts in India'