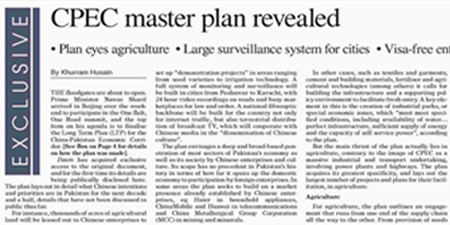 JournalismPakistan.com May 15, 2017


ISLAMABAD – Two senior officials Monday dismissed a Dawn story revealing the "original plan of the China-Pakistan Economic Corridor (CPEC)" as being based on an outdated proposal by China Development Bank that dates back to 2015.
Daily Pakistan Global quoting Fawad Hassan Fawad, Prime Minister's Principal Secretary, said the documents on which the story was based carry no relevance. They have been rejected by the Pakistan government and numerous amendments made to it.
Planning Minister Ahsan Iqbal refuted the news and termed it 'Dawn Leaks II' that seeks to malign CPEC.
The website quoted Iqbal as saying "Dawn report is based on dishonest reporting. It is based on an outdated proposal by China Development Bank while the actual agreement is a bilateral document which is yet to be signed, how can we make it public unilaterally without consulting our partner before it is even signed."
He termed the report "half cooked" in a race to break the news first.
The paper ran the front page story – CPEC master plan revealed – as exclusive on Monday. It claimed the documents were being released to the public for the first time and that it is the final agreement between Pakistan and China.
The plan, it claimed revealed, "what Chinese intentions and priorities are in Pakistan for the next decade and a half, details that have not been discussed in public thus far."
"China itself has given another updated version; the one published by Dawn is obsolete and outdated," Daily Pakistan Global quoted Fawad as saying.