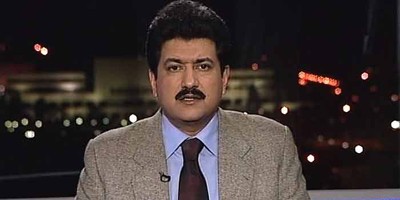 JournalismPakistan.com November 26, 2012
ISLAMABAD: Television anchor Hamid Mir escaped an assassination bid on Monday when police defused a bomb planted under his car in Islamabad, police and his channel said.
Mir, who hosts the Capital Talk evening show on Geo Television and writes a column for the biggest-selling Jang newspaper was criticized by the Taliban last month in the wake of the shooting of teenage activist Malala Yousafzai.
There was no immediate claim of responsibility, but the device was found stuck under the front passenger seat of his car, police said.
"There was half a kilo of explosives fitted with a detonator," city police chief Bani Amin told Geo, saying that officers had defused the bomb and were gathering evidence.
Mir was on his way to his office and the bomb was apparently planted when he stopped at a market, said Geo's Islamabad bureau chief Rana Jawad.
"It's a message to me as well as Geo and the journalist community in Pakistan," Mir told the television channel. "They want to stop us from speaking the truth but I want to tell them that we will not be deterred."
Interior Minister Rehman Malik offered a cash reward of Rs50 million ($500,000) for anyone with information about who was responsible for the powerful bomb.
"Had it exploded it would have blown the car into pieces," Malik told reporters, offering Mir extra protection.
Mir said the interior ministry had told him about threats to his life and already provided a police guard at his home, but he did not name any group he thought might be behind the device.
"Let us wait for the enquiry report, only then we can say something," he said.
Intelligence officials said last month that an intercepted Taliban message suggested suicide bombers had been assigned to attack journalists, with Geo at the top of the list of targets because of their coverage of the Malala attack.
Taliban hit-men shot Malala on her school bus in Swat Valley because she had campaigned for girls' rights to education. The 15-year-old survived.
According to the Committee to Protect Journalists, Pakistan is the third deadliest country for reporters in 2012, behind Syria and Somalia. - AFP