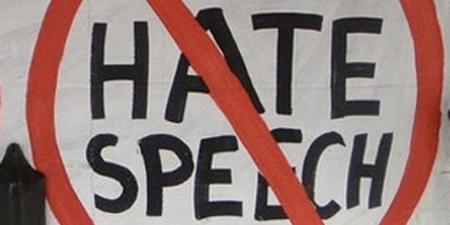 JournalismPakistan.com February 11, 2017


ISLAMABAD - Dawn Saturday called on the media organizations to tackle the serious problem of propagating hate speech and incitement to violence under the guise of free speech and media freedom by drawing up a fresh code of conduct.
"The specific organizations and media personalities actively peddling hate are well known, but a partisan regulatory environment and the wild claims of the protagonists have obfuscated a clear-cut and entirely unacceptable state of affairs," Dawn maintained in an editorial – Media freedom and hate speech.
Aamir Liaquat's program Aisay Nahin Chaley Ga on BOL News has been in the news for hate speech against social activists and journalists. The program has also led to legal battle between BOL News and PEMRA.
The editorial said that media freedom is hard won over the decades but "the line between free speech, however uncomfortable, and hate speech that invites or instigates violence is clear and must necessarily be drawn."
Without naming Aamir Liaquat, the editorial said when a media platform is used to denounce certain individuals in a manner in which the person making the allegation believes that automatic punishment ought to follow, the line between free speech and hate speech has been crossed.
However it opposed state intervention to address this issue and said "the management and journalists of media organizations need to come together to draw up a fresh code of conduct that can form the basis of future action by the Press Council and Pemra."
The paper said that sensible and fair guidelines with adequate checks and balances can be drawn up by scouring global practices and making acceptable adjustments for the local context.