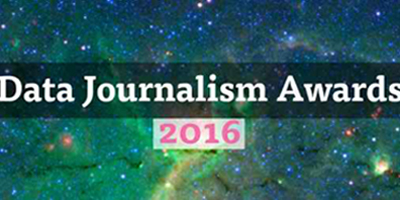 JournalismPakistan.com May 12, 2016


ISLAMABAD - Dawn Media Group and The Express Tribune are among 63 finalists for the Global Editors Network's fifth-annual Data Journalism Awards.
The winners of the contest, sponsored by Google News Lab and the Knight Foundation, will be announced on June 16 in Vienna.
Dawn.com features among the finalists for its brilliant six-month project titled '144 Stories - Remembering lives lost in the Peshawar school attack'.
The project undertaken in 2015 revolves around the massacre of 144 children and teachers at the Army Public School, Peshawar.
A team of producers and reporters visited 144 families and collected their stories, which were built into an interactive feature.
Applicant Atika Rehman, a news editor at Dawn Media Group was quoted by Global Editors Network as saying: "The response to the project was astounding. It is the first of its kind endeavor in Pakistan and elicited feelings of both heartbreak and pride among our readers. The best part for me was the readers' acknowledgment of the project as one which allows them to believe in journalism again – an admission I consider an enormous victory in a country where people are generally so skeptical about the news."
The Dawn project bracketed in the Data Visualization of the Year (Large Newsroom) category.
On the other hand, The Express Tribune is on the list for its project titled 'Pollution continues to batter city's lungs, ears'
With in-depth reporting by Mahwish Qayyum, the project is about traffic police officers, and vendors at risk of air pollution in Peshawar.
A project description on globaleditorsnetwork.org said urbanization, increasing population and migration of people from rural to urban areas do not come without a host of problems for the provincial capital; chief among which is pollution. Environmental challenges have left citizens exposed to toxic hazards such as clouds of black smoke emitting from the ever-increasing number of vehicles. These would have been declared unfit to be on roads in most countries – not in Pakistan.
According to the study published in the journal 'Nature' in September 2015, Pakistan ranked third with 110,000 deaths annually from air pollution. Vehicular traffic, industries and other factors are responsible for air pollution in the provincial metropolis.
The Urban Unit Policy survey reveals that some 0.75 million vehicles — registered and unregistered — ply the roads of Peshawar. The National Institute for Occupational Safety and Health (NIOSH) recognizes a majority of hearing loss cases is not due to age, but exposure to noise.
The Express Tribune project is in the Open Data category.
Related post from JournalismPakistan.com Archives:
Dawn.com fast heading towards digital convergence, says editor