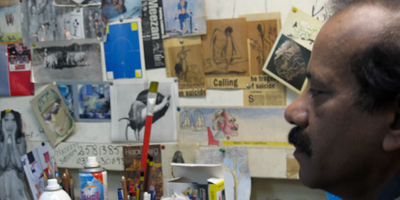 JournalismPakistan.com January 10, 2015
ISLAMABAD: In the face of Pakistan's prolific use of blasphemy laws and a culture of political violence, cartoonists must tread a thin line. But they do find ways to poke fun at the powerful -- including religious extremists.
Pakistan is consistently ranked one the world's most dangerous countries for journalists, with reporters often caught between powerful spy agencies and Islamist militants.
Without subscribing to all the ideas of Charlie Hebdo's satirists killed this week for their depictions of Prophet Mohammed, the country's caricaturists have sustained a proud, decades long tradition of pushing the envelope of free speech.
"Everybody has a red line. I can make cartoons against terrorism, terrorists but not about the Prophet," said Rafique Ahmad (pictured), who is known by the pen name "Feica" and is regarded as a legend among Pakistani cartoonists.
"I have drawn lots of cartoons about bigots, fanatics, these fundamentalists," added Feica, who began his career in the late seventies during the harsh rule of Islamist General Zia ul-Haq when censorship was rife.
In Pakistan, the controversial blasphemy law carries the death penalty for those who insult Prophet Mohammed.
There are currently 14 languishing on death row for the charge, while mobs often carry out their own form of justice as was the case when a Christian couple were burnt to death at a brick kiln last November.
Though the constitution guarantees freedom of expression, it is ring-fenced: attacks against the "glory of Islam" and the "security" of the country are strictly prohibited.
"Self-censorship is everywhere" said Feica.
Caught between a powerful military that has led three coups in the country's history and the rising menace of Islamist extremists who have waged an insurgency against the state for more than a decade, cartoonists are careful to lampoon concepts without making things too personal.
"If you target militants, extremists or Taliban it is OK but if you target a specific person... then that becomes a personal vendetta and chances of attacking you increase," said veteran cartoonist Sabir Nazar.
A few years ago, he received threats after drawing a caricature of the radical Red Mosque in Islamabad, the scene of a bloody army operation in 2007 and now the focal point of a "Reclaim Our Mosque" movement after a bloody Taliban attack on a Peshawar school last month.
In Pakistan, where 45 percent of the population is illiterate, the English-language press remains the preserve of a minority urban educated readership, unlike the Urdu newspapers which sell hundreds of thousands of copies everyday.
Cartoons are therefore tailored for their audience. The Urdu press is more nationalist, religious, conservative and popular than English and cartoonists do not enjoy the same level of freedom.
"My code is very strict: I don't touch subjects like religion and sex. These are two subjects we are not supposed to touch. The common man has so many problems (in this country) so I have always focused on the common man," said Jawed Iqbal, a cartoonist for the daily Jang, the country's most read paper.
Rolling power outages, gas shortages, a Kafkaesque bureaucracy, and political rivalries provide the bulk of material for cartoonists such as Iqbal.
Iqbal, like the other cartoonists, expressed deep sympathy at the killings of his French counterparts.
"But I don't know why they have touched the subject which can affect millions of people. They shouldn't touch that subject," he said. - AFP