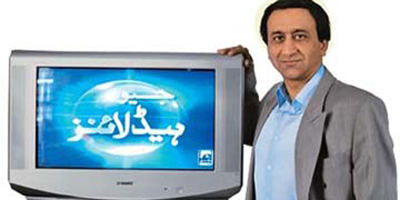 JournalismPakistan.com November 29, 2014
ISLAMABAD: President of the Council of Pakistan Newspaper Editors (CPNE), Mujibur Rehman Shami and the President of the All-Pakistan Newspapers Society (APNS) Hameed Haroon have termed the conviction of Mir Shakil-ur-Rehman unlawful and a threat to press freedom.

An anti-terrorism court in Gilgit-Baltistan awarded 26 years imprisonment to Mir Shakil, the owner of Jang-Geo media group, Bollywood actress Veena Malik and her husband Assad on Nov 25 for committing blasphemy in a mock TV wedding scene.

In a joint statement issued Friday, they said the conviction was contrary to Article 19 of the Constitution and the Gilgit-Baltistan (Empowerment and Self-Governance) Order 2009.

The statement published in Dawn says, "The unlawful conviction of media persons in Gilgit-Baltistan constitutes a major threat to the existence of a free press throughout the country."

They said the conviction was also contrary to Article 10A and 13 of the Constitution that guarantee the fundamental rights to citizens of Pakistan.

The presidents of the CPNE and APNS have asked the prime minister to take cognizance of the situation and ensure proper amendments in the Gilgit-Baltistan Order 2009.

They also urged the prime minister to dispose off the sentence awarded by the anti-terrorism court in Gilgit-Baltistan to Mir Shakil as he can do so under Article 34 of the Order.