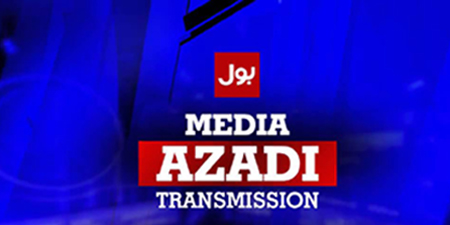 JournalismPakistan.com October 18, 2016


ISLAMABAD – BOL News hit the airwaves Tuesday starting its Media Azadi Test Transmission that signaled a formal launch of the channel that faced a 15-month ordeal was now imminent.
Prominent and hard-hitting anchor Mubasher Lucman hosted the transmission that began with the national anthem.
Among the first appearances were those of BOL's very own – senior journalists Nazir Leghari, Amir Zia, Faysal Aziz Khan and actor Nabeel.
Lucman dedicated the broadcast to journalists in Indian Occupied Kashmir, where they are being subjected to attacks and harassment on a daily basis.
The transmission being beamed out of BOL auditorium in Karachi was to run up to 12.30am.
BOL managers are aiming to launch the channel before the close of the year.
BOL CEO Shoaib Ahmed Shaikh and several of his senior managers languished in jail for 15 months after a New York Times story in May 2015 claimed Axact, the parent organization of BOL News, was involved in selling fake degrees worldwide.
However, it is widely believed a conspiracy was hatched against BOL by some top news organizations that felt threatened by the channel's financial might and its claims of taking the Pakistani media industry by storm.