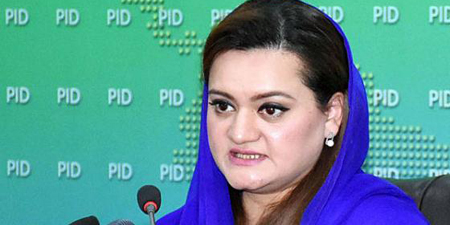 JournalismPakistan.com February 17, 2017 Daud Malik



ISLAMABD: The Senate was informed Friday that PEMRA has received 1068 complaints against various private TV channels for inciting sectarian violence since February 2016. Of them two-thirds were against BOL News.
Minister of State for Information and Broadcasting Maryum Aurangzeb (pictured) told the upper house that PEMRA has been reminding and sensitizing broadcasters and distribution service operators of their legal obligations and responsibility towards society.
She was responding to a question by Senator Kalsoom Perveen about the number of complaints received by PEMRA against TV channels for spreading sectarian violence and incitement during the last six months and the action taken in each case.
Out of the 1068 complaints, 713 are against BOL News. The channel, according to the list shared in the house, violated prohibition orders by "rebroadcasting fresh, old or repeat programme Aisay Nahi Chaley Ga despite the fact that the BOL News was ordered that "Mr. Amir Liaquat shall not host any programme or appear in any manner including as a guest, analyst, reporter, actor, in audio, video beeper, promo/advertisement on BOL News.
Aisay Nahi Chaley Ga became controversial as it started a media war with Geo and at the same time termed almost everybody who disagreed with its host unpatriotic and committing blasphemy. The program also promoted a legal battle between PEMRA and BOL in the Sindh High Court and the Supreme Court besides a bitter war of words on Twitter.
Social activist Jibran Nasir started a campaign against Aamir Liaquat and Aisay Nahi Chaley Ga on Twitter, highlighting the procedure to register complaints with PEMRA.
A total of 228 complaints were received in the last one year against Aaj TV which led to ban on program Ramzan Hamara Emman, hosted by Hamza Ali Abbasi. While banning the program in June 2016, PEMRA said: "During these transmissions, ratings remain the focus under the guise of Ramzan shows" and "provocative conversations took place during the shows which has led to much anger".
Hamza, who co-hosted the post-Iftar transmission, with Aisha Khan for Aaj TV, held discussions on the Ahmadi community and blasphemy laws during the show.
Such complaints were also filed against Dunya, Channel 5, Neo, Channel 92, TV One, Geo, and ARY.