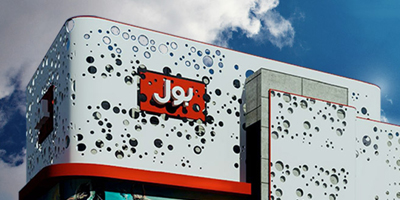 JournalismPakistan.com July 12, 2013
ISLAMABAD: The BOL Network has responded to what it says is a defamation campaign against them by publishing lengthy details on its website.
The managers at the television channel yet to go on air appear to be particularly upset because of certain actions of an industry rival which BOL says is in direct competition with them.
Claiming it had received 40,000 applications for jobs in just one month, the channel says this response had "triggered many sleepless nights for a small and insignificant media group that tried to sabotage our noble mission to revolutionize the media industry in Pakistan, through coercive and unethical ways."
"The reason behind this defamation campaign is clear: BOL Network managed to attract a large number of its employees, which added to its insecurity to such a degree that it mounted a well-orchestrated smear campaign against the upcoming channel," BOL said.
"It is a pity that they have gone down to this point and have admitted their failure way before playing a healthy role in the competition. However, BOL will not be deterred by these unscrupulous elements seeking to undermine our strengths."
BOL has published on its website the following account of events that unfolded since the network announced vacancies through a full-page advertisement:
First of all these elements used various platforms to defame BOL such as SMSs, emails and blogs. BOL has examined all forensic evidence and knows the identities of these perpetrators. We will bring them to justice and reveal their identities in front of the nation. BOL assures all our stakeholders, especially the general public, that we will continue to lead this fight against all such negative elements. BOL will remain steadfast and protect its noble cause for the benefit of everyone in the media industry.
In this context, Mr. Faisal Sherjaan working as a director for the Geo/Jang Group which is in direct competition with BOL bears a mention here. He claims that his organization has nothing to do with his actions and has started a malicious campaign on social media to defame BOL. BOL has taken him to task and has obtained a restraining order against him from Sindh High Court. We have filed suit of damages Rs. 500 million and also initiated criminal and civil proceedings.
After this, a frivolous petition was filed against BOL by Mr. Agha Shahid Rasheed, a former PTV employee, in Lahore High Court which was disposed of immediately by the Honorable High Court on the very first day. Subsequent to this, BOL began to pursue civil and criminal action against the petitioner for filing false and defamatory pleadings in the court.
Then there were direct attempts to misguide the government functionaries to create legal problems in the operations of BOL however, all such attempts failed.
Then out of frustration a fictitious, malicious, baseless and slanderous story was written by Mr. Saleh Zaafir (who is one of the biggest recipients of secret fund as per the list released by the Supreme Court). This was a totally false, baseless, incoherent story based on a non-existent court order thus not only liable for criminal and civil proceedings under the defamation ordinance 2002 but also for criminal blackmailing, qazaf, contempt of court and for falsifying the court order to accomplish malicious objectives thus hurting the sanctity and respect of the honorable courts.
See the full BOL response here