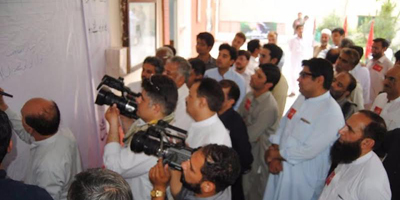 JournalismPakistan.com May 04, 2016


PESHAWAR - BOL freedom caravan reached Peshawar from Karachi at the start of the week while passing through Islamabad and Azad Kashmir.
Upon arrival at Peshawar Press Club, internationally acclaimed squash legend Qamar Zaman commenced the BOL Signature Campaign – in support for the shackled media group.
Advisor to CM for Law Arif Yousuf, Joint Secretary ANP Shagufta Malik, President Peshawar Press Club Syed Bukhar Shah, President Khyber Union of Journalist Saif-Ul-Islam Saifi, Chairman of KPK NGOs Union Qamar Naseem, members of civil society, lawyers and citizens of Peshawar manifested solidarity with BOL's cause and asked the government to revoke ban on BOL.
Qamar Zaman termed the ban against BOL an injustice saying that government should lift the ban and have pity on the families of journalists. He said "BOL must speak and will definitely speak."
President Peshawar Press Club Syed Bukhar Shah said that journalists will continue to fight for their rights.
Joint Secretary ANP Shagufta Malik said that ban on BOL is an exploitation of journalism and journalists. "We are with BOL for freedom of speech and freedom of journalism. "
Advisor to CM Arif Yousuf said the ban was an economic massacre of journalists. He urged the federal government to freed BOL, and said the media house can guarantee a better future of journalists.
Nazir Leghari, senior journalist and member of BOL Action Committee(BAC), said that from Karachi to Khyber BOL freedom caravan is on the way to its destination.
He pointed out that merely on the basis of one baseless story BOL was illegally shut down. "People who victimized BOL, their true faces have been unveiled by Panama Leaks. Government and specific media groups cannot enslave journalism and BOL will speak soon."
Faysal Aziz Khan, another BAC member said that BOL and Axact have been illegally shackled for the past one year and Supreme Court is expected to deliver justice. "In the next 60 days good news regarding BOL is to be discerned, we will fight for justice in the Supreme Court."
He highlighted that BOL will be freed soon with the help of journalistic organizations. To make the ceremony memorable, the Press Club administration announced that the signature wall will remain in place until BOL was restored.
Zahir Shah, Resident Editor of BOL in Peshawar said that BOL raised voice against the seth mafia, therefore, all and sundry teamed up against the channel. "BOL's freedom struggle is going on and will continue," he said.
Joint Secretary ANP Shagufta Malik, MPA Arif Yousuf and president Peshawar Press Club among others participated in the Signature Campaign. The participants demanded that pseudo cases against BOL be dropped.
Related posts from JournalismPakistan.com Archives:
Ministry exploring options to resolve issue of BOL staff's salaries
BOL workers warn of staging sit-in outside Parliament House
BOL workers to resume protests