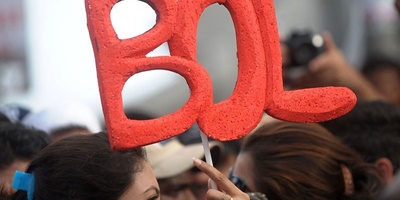 JournalismPakistan.com June 26, 2015
ISLAMABAD : The campaign to have the license of upcoming BOL News restored has started fading due to internal differences of the senior management and journalists.

The Pakistan Electronic Media Regulatory Authority (PEMRA) suspended the channel's license in late May after receiving a letter from Ministry of Information. The channel was due to hit the airwaves on first of Ramadan.

A New York Times report on Axact, parent company BOL, alleging the company was involved in selling fake degrees to students across the globe, created a major controversy.

Journalists attached with the channel and journalists unions across the country started protest demonstrations against the government for suspending BOL's license. The Pakistan Federal Union of Journalists (PFUJ) even issued a 48-hour deadline to the government to restore the license but it didn't work.

The journalist fraternity was, however, hopeful to get the license restored through their protests and boycotting coverage of the government's important events. The PFUJ even announced disrupting inauguration ceremony of Metro Bus on June 4 and boycotting the budget session the following day.

To assuage the journalists, Minister for Information Senator Pervaiz Rashid approached the PFUJ and assured them that the channel's bank accounts would be unfrozen and the license restored. The promise is, however, yet to be honored.

BOL journalists separately launched daily protests against the government at all their bureau offices including Karachi , Peshawar , Lahore and Islamabad . Initially, they chanted vociferous slogans against the government but now their voice appeares to have subdued as a result of internal differences.

PFUJ President Afzal Butt tells JournalismPakistan.com the government promised to help BOL employees by unfreezing the company's bank accounts before advent of Ramadan if the management filed a case in the court.

"The BOL management has not yet filed a case in the court. It seems like they are in a fix over the bank accounts issue," he said.

Butt said the PFUJ has been struggling to get the channel's license restored as the matter is directly related to working journalists' employment. "But we can't do anything on our own … BOL management will have to decide if they want to get the company's bank accounts unfrozen and the channel's license restored," he said.