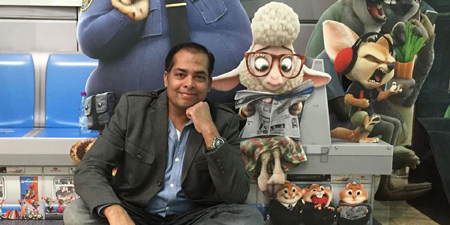 JournalismPakistan.com January 08, 2017


ISLAMABAD – Award-winning cartoonist Shujaat Ali (pictured), who spent 16 years at Al-Jazeera Arabia in Doha has now returned to Pakistan and will be contributing for JournalismPakistan.com.
His work under 'LOL with Shujaat' will appear exclusively on our Home Page regularly and he will be focusing on the Pakistani media. His first cartoon published Sunday highlights what mess the electronic media have made of breaking news.
"I am delighted to be back home and looking forward to making JournalismPakistan.com followers laugh with my work," Shujaat, 45, said.
Denied admission to the National College of Arts, Shujaat appeared on the op-ed pages of The News in 1992 becoming at 23, one of the youngest editorial cartoonists in Pakistan.
"My journey in art started at the age of 3. I grew up playing with lines, observing the world around me," he said. "As a political cartoonist, I believe in the freedom of expression and my aim is to work for global peace."
Shujaat is the pioneer of courtroom reporting art in Pakistan and has also worked extensively with the Pakistan Air Force (PAF). One of his paintings of a fighter jet appears on a Pakistani postage stamp issued on the occasion of 100 years of power flight.
A holder of several national and international awards, Shujaat's emergence as a political cartoonist goes to show he has adjusted himself well in a difficult environment where there's little political tolerance.
In a career spanning 26 years, Shujaat has proven to be one of the most dedicated professionals. "I am an activist of freedom of expression and an international citizen beyond the concept of boundaries of countries, of racism and nationality."