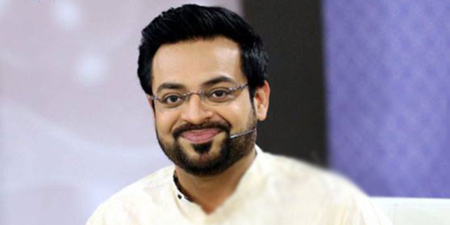 JournalismPakistan.com March 27, 2017


ISLAMABAD – Electronic media watchdog PEMRA Monday ordered BOL News anchor Aamir Liaquat to apologize unconditionally to all individuals in his program by specifically naming each of them against whom he made hate comments.
A fine of Rs1 million was also imposed on the channel which has also been asked to "ensure that text to the same effect is also scrolled/displayed on the screen during the entire program wherein Aamir Liaquat apologizes to viewers."
The apology will have to be aired on or before March 31 during the same time slot of the program, the regulator said.
PEMRA also directed that BOL submits an affidavit by March 31 "assuring the authority that no hate speech or any content in violation of Electronic Media (Programmes and Advertisements) Code of Conduct 2015, notified by the Federal Government on the orders of the Supreme Court shall be aired in future."
PEMRA said that in the case of non-compliance, Aamir Liaquat would be banned from April 1, 2017, till such time its orders are complied with.
A joint meeting of the Councils of Complaints Sindh and Lahore held earlier gave its recommendations about the anchor and his program Aisay Nahi Chalay Ga. The Supreme Court had ordered the joint sitting.
The Councils had held a marathon hearing in Islamabad on March 10 that lasted nine hours and later reserved their recommendations.
Among the complainants present at that joint session were Najam Sethi, Talat Hussain, Imtiaz Alam, Imran Aslam, Shahzeb Khanzada, Murtaza Solangi, Shahrukh Hassan, Beena Sarwar (via Skype) and Jibran Nasir.
Respondent Aamir Liaquat was also there along with his chief counsel Raja Rizwan Abbasi and his legal team. Aamir and his lawyers presented their point of view separately to the Councils.