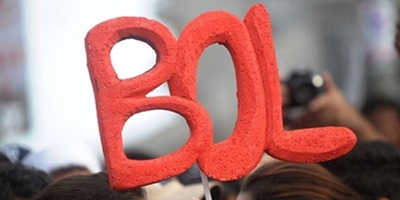 JournalismPakistan.com August 20, 2015
ISLAMABAD: The management of ARY Television has bought 45 percent shares of BOL News Television and plans to launch the channel on September 6.

"Let's get on our feet, we have to launch BOL within three weeks," said CEO ARY Salman Iqbal while addressing BOL employees at the channel's headquarters in Karachi.

"ARY will take over BOL's management from tomorrow on a 45-55 percent share formula."

Salman Iqbal paid rich tributes to all BOL employees for standing by the channel in difficult times. "We will launch BOL with the same vision and ideology on which it was to be launched originally," he said.

He said the announcement of BOL channel was tantamount to a revolution in the media industry and today a second revolution has knocked on the industry's door.

"I assure you all that all the promises the previous management made with you will remain intact. We will offer you the same facilities," he said.

He said ARY has been struggling for freedom of press and freedom of expression and would continue to do so. "We don't have any agenda but one and that is prosperity of Pakistan."

BOL was to be launched on first of Ramadan but could not hit the airwaves after a story published in The New York Times accused Axact, parent company of BOL, of selling fake diplomas to students.

Federal Investigation Agency (FIA) has been investigating the alleged charges of fraud against Axact and BOL chief executive Shoaib Shaikh.