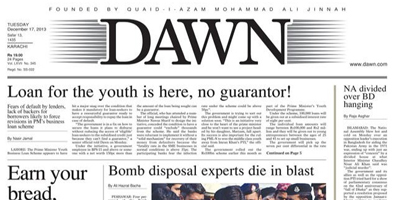 JournalismPakistan.com December 17, 2013 Daud Malik

ISLAMABAD: Dawn has opted for leaner and vertical look unveiling its 'new' face Tuesday as its editor argued that in a fast-changing media environment "newspapers, more than ever, have to be seen as living entities that are constantly in need of re-invention."
With more space for pictures, briefs with colorful backgrounds, and headlines which look more a part of the text, it seems as if a historical building has been replaced by a modern structure.
Tuesday's edition must be unrecognizable for the newspaper's loyal readers. It might take some days before they get used to the new look.
However, there is an effort to keep the layout "easy on the eye" – something that Dawn has successfully done over the years.
According to the editor, "the paper has gradually introduced alterations in content and design…driven by the need to revamp a paper that has not seen any major changes over the past three decades and partly by the need for the Pakistani print media to adapt to the world of television channels and social media."
The editorial pages look completely revamped, with a new section – From the past pages of Dawn - added. Another effort at connecting with the past is the Inner Voice on the city pages – Chaudhry Anwar Aziz, a retired politician, narrating how as member of the 1985 Assembly he and fellow parliamentarians successively got Syed Fakhar Imam selected as the Speaker against the wishes of then military dictator Ziaul Haq.
Though in the coming days there will be closer scrutiny, the three editorials seem out of joint, as if not fitting into the new layout. As in some other newspapers, images of writers accompany their articles on the editorial pages.
Clearly, the effort is that there should be more for the readers to 'see', as pictures of every size have been used. However, the editor was careful to explain that in spite of more space for photographs, "we have also added two pages of content."
With a full page dedicated to 'Metropolitan Leisure', the paper may well come up with more "word games" and "puzzles" as they have young and old followers.
As the readers grapple with the new look of Dawn, the editor promised to "continue to modify and innovate to keep pace with the fast-changing media world."