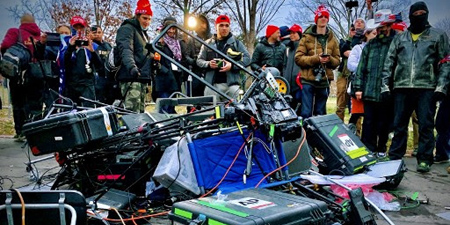 JournalismPakistan.com January 08, 2021


BRUSSELS—Violent protesters targeted and attacked media workers during the assault on the United States Capitol in Washington DC. The International Federation of Journalists (IFJ) and its American affiliates deplore these barbaric attacks against journalists and stand in solidarity with journalists protecting citizens' right to know.
A violent mob assaulted a media crew when they were reporting on the attack on the US Capitol during the certification of the presidential vote perpetrated by supporters of outgoing President Donald Trump.
Assailants destroyed media equipment and made a noose out of camera cables and hung it from a tree while screaming "get out of here" and "we are the news now."
A spokesman for The Associated Press confirmed that its equipment had been stolen and destroyed, adding that none of its staff members had been injured.
A CBS News journalist reported that a protester had told him that law enforcement officers would not protect journalists and denounced the lack of protection. "There were no police around us, we were on our own. We high-tailed it out of there." He described the mob as "absolutely, ferociously angry at the media."
While journalists outside the Capitol were threatened and surrounded, media workers inside the Capitol were forced to shelter in secure locations for hours as violent protesters entered the building. One of them wrote, "murder the media" in a door inside the Capitol.
More incidents against media workers were reported in Canada, where a CBC News photojournalist was assaulted at a pro-Trump protest in Vancouver, according to media reports.
The NewsGuild, an IFJ affiliate, called on its members who were covering the unfolding events at the capital to please stay safe and be in communication with them and offered any kind of support or assistance if needed.
Newsguild President, Jon Schleuss, said: "This is an absolute embarrassment for our country. My thoughts are with all the amazing journalists covering this moment. Stay safe, by God, you are our light. We are only free and informed people because of our free press".
National Writers Union President, Larry Goldbetter, said: "It is no coincidence that the racist storm troopers who attacked an election that 160 million people participated in, would also attack media workers, elections and a free press are two of the foundations of a democratic society. Trump and his terrorist minions are violently opposed to both. What's worse is that they had free reign for the entire day, whereas protesters against racist police violence were arrested by the tens of thousands over the summer.
IFJ General Secretary, Anthony Bellanger, said: "We are appalled by the violent attacks against media workers who were just doing their job. This is the final result of a long process of demonisation and hate-speech narrative against the media in the United States by Donald Trump. We stand in solidarity with our American colleagues. You are not alone."—IFJ media release/Photo: AFP