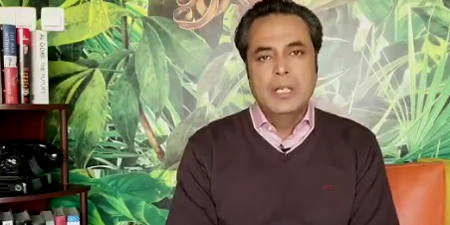 JournalismPakistan.com January 09, 2019


ISLAMABAD - Talat Hussain, a former Geo News journalist, has objected to Prime Minister Imran Khan congratulating Indian cricket Captain Virat Kohli for scoring a historic series in Australia.
In a video he posted on Twitter, shows Indian Prime Minister Narendra Modi greeting the team for winning the Test series 2-1.
Then he showed a tweet of Imran Khan, and asked why the Indian team was greeted.
India won a Test series Down Under for the first time in 71 years.
Hussain was also upset that the prime minister expressed appreciation for the win of any "subcontinent" team in Australia. His accompanying tweet in Urdu says "marriage in India, celebration in Pakistan."
However, Hussain was criticized for expressing unhappiness over the prime minister's tweet.
Poet and author Atif Tauqeer thought his criticism was uncalled for. Others said Hussain should have appreciated the prime minister for showing sportsmanship.