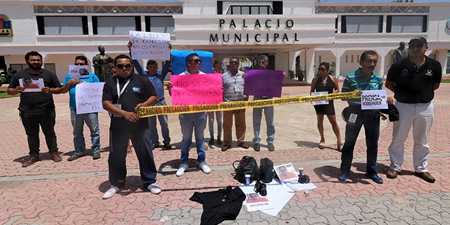 JournalismPakistan.com July 07, 2018


MEXICO CITY - Authorities in the southern Mexican state of Quintana Roo must immediately undertake a swift and credible investigation into the shooting death of journalist José Guadalupe Chan Dzib and bring those responsible to justice, the Committee to Protect Journalists said.
Chan Dzib was shot and killed by an unknown assailant in the evening of June 29 in a bar in Sabán, some 150 miles southeast of the popular tourist resort city of Cancún.
According to news reports, the reporter was shot several times by a single, unidentified gunman in the La Baticueva bar in Sabán at approximately 10:00 pm on June 29.
A brief statement by the Quintana Roo state attorney general's office, published on its Facebook page, stated that Chan Dzib had already died when police arrived at the bar shortly after the shooting was reported.
In a second statement, released on July 1, the state attorney general's office said it had not yet identified the suspect or suspects and had not yet discarded any possible motive, including a possible connection to the reporter's work.
"Authorities in Quintana Roo must do everything in their power to ascertain the motive behind the shooting death of José Guadalupe Chan Dzib," said Jan-Albert Hootsen, CPJ's Mexico representative. "Without concrete steps to solve the killings of reporters, Mexico will continue to be one of the most dangerous places in the world for journalists."
Ricardo Sánchez Pérez del Pozo, who heads the office of the federal Special Prosecutor for Attention to Crimes Committed against Freedom of Expression (FEADLE), told CPJ on July 2 that his office had opened an investigation into the murder.
The killing occurred two days before Mexico's July 1 general election, which included elections for municipalities and state congress in Quintana Roo. The campaign has been the deadliest in recent history; more than 100 candidates and political workers were murdered, according to Mexico City-based risk consultancy firm Etellekt, and at least 1,000 dropped out of the race due to the threat of violence, according to news reports.
Chan Dzib, 43, was a reporter for the online news resource Semanario Playa News, which operates out of the tourist resort city of Playa del Carmen and uses Facebook as its platform.
Rubén Pat, a co-founder of the outlet, told CPJ in a telephone conversation on July 2 that he had hired Chan Dzib in March of this year, and that he reported from the region surrounding the municipality of Felipe Carrillo Puerto. Before joining Semanario Playa News, Chan Dzib had been a reporter for local newspapers Por Esto and Respuesta.
According to Pat, the journalist mostly covered general news, local politics, and crime and security. His most recent publications for Semanario Playa News included a story about the execution of a local political leader in Sabán and a story about the final campaign event of a candidate for mayor in Felipe Carrillo Puerto.
Pat told CPJ on July 2 that Chan Dzib had told him three weeks earlier that he had received a threatening phone call from an unknown person. He added, however, that the reporter did not elaborate on whether the threat was related to his work as a journalist. Pat said he was unaware of additional threats.
A family member, who asked for anonymity out of fear for reprisals, told CPJ on June 30 that he was unaware of any threats and that Chan Dzib did not generally discuss his work with his family.
The murder of Chan Dzib is not the first attack on personnel of Semanario Playa News. On June 25, 2017, Rubén Pat himself was arrested and beaten by police officers and detained for several hours in Playa del Carmen. He told CPJ several days after the attack that the police officers assaulted him out of anger over an article Playa News had published about banners hung in several places around the city, allegedly by a criminal gang. Pat has since been incorporated in a protection scheme by the Federal Mechanism for the Protection of Human Rights Defenders and Journalists.
A spokesperson for that institution told CPJ on July 2 that Chan Dzib was not enrolled in a state or federal protection scheme. He asked to remain anonymous to speak freely on the matter.
Mexico is one of the most deadliest countries in the world for journalists, according to CPJ research. Chan Dzib was the sixth journalist killed in Mexico this year. CPJ has determined that at least two of the journalists killed in 2018 were targeted in direct reprisal for their work. - A CPJ News Alert/Photo: AFP