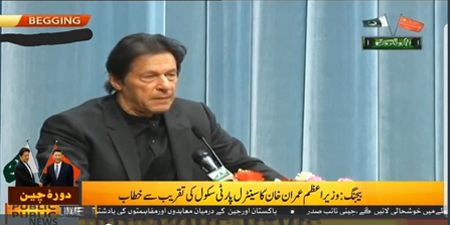 JournalismPakistan.com November 04, 2018


ISLAMABAD – State-run Pakistan Television on Sunday regretted displaying 'Beijing' as 'Begging' during a live address of Prime Minister Imran Khan in China.
Although PTV termed it a 'typographical error', it had all the signs of an intentional mischief.
The blunder aired for less than a minute but it was enough to ignite the social media, drawing a string of comments.
PTV announced on Twitter: "Today during a live address of the Prime Minister during his ongoing visit to China, a typographical error took place, which remained on screen for 20 seconds and later removed. This incident is regrettable. Strict action has been initiated under rules against concerned officials."
Twitter user Robini (@despondent2016) tweeted: "…U shud b ashamed of urself for embarrassing Pakistan like this. Its so clear & obvious this was done maliciously & intentionally…"
Jawad (@WoShakhs) had this to say: "This appears less a typing error more a deliberate ploy. Please fully investigate @fawadchaudhry."
Saima (@DaLondonGirl) said: "Unacceptable explanation!! this was fully planned. Thorough investigation must be taken and fire whoever did this. PTV still has old govt chamchay and need replacing asap. This is absolutely shocking!! How did this happen on ur watch @fawadchaudhry?"