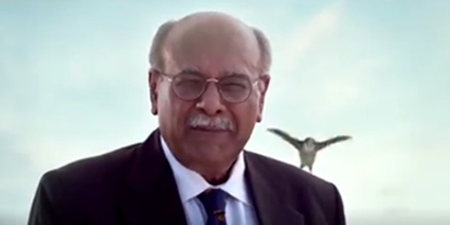 JournalismPakistan.com November 14, 2018


ISLAMABAD - Senior analyst Najam Sehti is back with a provocative promo of his new program – Najam Sethi Aap Kay Saath.
The promo shows hunters representing leading political parties and establishment out hunting a sparrow. Also in the hunt is a black game dog.
Sethi made the sparrow famous as his source of news while at Geo TV where he appeared in the program Aapas Ki Baat. He will now feature on Aap News which is to go on air soon.
The hunters representing PPP, PTI, PML-N, and MQM, and a representative of the establishment fail in the hunt.
Soon Sethi arrives at the scene in a black Mercedes. As he disembarks, the chirping bird lands on his shoulder. He then utters a dialogue from the title of an Indian movie – Main Hoon Na and announces the program's title.
The promo is different as it does not use rhetoric, though it shows the political parties as those believing in the use of violence, and that too against a sparrow.
Commenting on the promo, Nadeem Farooq Paracha tweeted: "@najamsethi set to return to the mini-screen with his chira. Cool promo".
Others wondered what the dog represents. Some said the media itself.
Erum Mehboob did not agree with Paracha. "Cool promo? Although I really respect @najamsethi but if this promo had featured a right-wing media person, by now, you would have published a satire mocking them, the channel, & everything that exists on the planet earth."
Bilal Lakhani found the promo horrible.