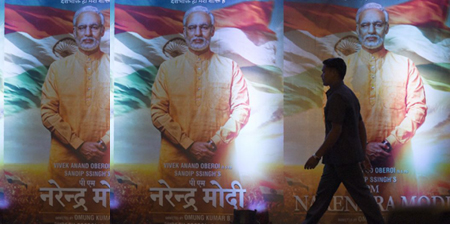 JournalismPakistan.com April 11, 2019


India banned Wednesday the release of a biopic about Prime Minister Narendra Modi during the country's marathon elections after complaints that the flattering portrayal would give the ruling party an unfair advantage.
Modi's right wing Bharatiya Janata Party (BJP) is seeking a second term, defending a landslide win over the opposition Congress party in 2014. The result is predicted to be close however.
In a win for the opposition, India's Election Commission barred the cinematic release of the film until voting concludes on May 19.
Under Indian election rules, the publication of any content deemed as campaign material - including advertisements, films, and even social media - requires the election commission's prior approval.
The commission - which organizes the world's biggest democratic poll with 900 million eligible voters choosing 543 MPs - said the film "has the potential to disturb the level playing field during the elections."
Congress insisted it was propaganda and resisted the timing of its release, even taking its fight to the country's highest court.
The movie tells the story of the Hindu nationalist leader's ascent to power from his days selling tea at a train station.
The film had been granted a censors' certificate and was planned to release Thursday as the first wave of voters went to the ballot box.
The Election Commission also gave the producers of two TV series warning notices for promoting Modi's pet schemes through their shows, The Press Trust of India reported.
The ruling came as security was placed on high alert across India and tens of thousands of troops deployed to a hotspot where a political convoy was attacked on the eve of the election.
Seats in 20 states will be decided on Thursday - the first of seven days of voting spread over six weeks. - AFP