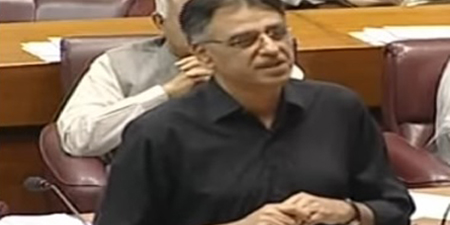 JournalismPakistan.com April 27, 2019


ISLAMABAD - Abbas Nasir, a former editor of Dawn, on Saturday claimed that four journalists were informed in advance about the sacking of Asad Umer (pictured) as finance minister, hinting that the news came from the military.
The article – PTI's moment of truth – published in Dawn on Saturday, deals with the difficulties the ruling party faces in governance and tackling the economy.
Nasir maintained: "Interestingly, none of the four known TV faces, who had been invited to Rawalpindi to break bread with the most powerful figure in the country, mentioned in their programmes either the dinner or that they'd been told of the fate of the finance minister several days ahead of his sacking."
ARY News and BOL TV aired the news about the replacing of Asad Umer as the finance minister. Though the story was vehemently denied by the PTI government, only three or four days afterward, Asad announced he was leaving the cabinet.
In the same article, Nasir also maintained that Prime Minister Imran Khan is "extremely sensitive" to criticism.