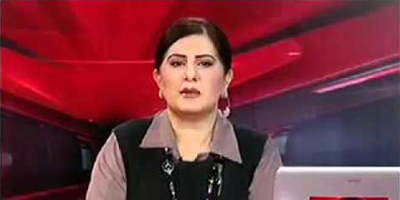 JournalismPakistan.com August 14, 2013
ISLAMABAD: Television anchor Jasmeen Manzoor has finally broken her silence to tell the world about the events that led to her resignation from Samaa TV.
She quit last month after his employers refused to extend support following threats to her life because of her work.
Jasmeen, quoting law enforcement agencies said in a blog post the threats to her were from MQM and explains why her life is in danger.
"I have spent 15 years a journalist and have been doing current affairs shows on private news TV channels of Pakistan but this is the first time, according to law enforcement agencies, I and my family are under serious life threats," wrote.
"Hunt and target a woman. Not only will this make international headlines but will also tell the world that we are hostage to handful of terrorists …these terrorists control our destinies.
She said that it all actually started on "11th May 2013 when Pakistan was witnessing General Elections 2013 and voting for political transaction (sic) from one democratic government to another was taking place. As a journalist and host of news channel, I was covering voting process around Pakistan via special election transmission.
"On that day, I witnessed that, huge numbers of people came out to cast their votes which was not seen in the past. I was jubilant excited and praying "God let there be a change let the Pakistanis decide for a new beginning," she wrote.
"My excitement turned into my nightmare. I decided to cast my vote along with my old mother and my brother. I went to my polling constituency called NA 250 (DHA Girls College polling station) and there I saw crowds of people, huge numbers, hundreds of excited women, youngsters, girls and boys. Now it was around 2 O clock in the afternoon the polling had started very late, in fact the ballot boxes were brought by the candidate himself in custody of Rangers.
"I started talking to the people they were tired and hot and by now getting impatient as the line was huge but the voting was very slow. As a journalist, I entered the polling station forcibly to know why polling was so delayed and slow? As I went inside I saw total ciaos (sic). There was hardly any staff and people were pushing and shoving puzzled what to do. I started surveying the rooms; polling was going on in a few rooms but at a snail's pace and the staff was scared. I asked them why was there so much less staff and why were they taking so much time? They said don't ask us , ask the presiding officer who was nowhere to be seen. I saw one room which was locked from inside, I tried opening it because my instinct said something was wrong, as I pushed the crowd pushed with me and we managed to get inside and there I witnessed that polling officer hostage and a few young men stamping fake votes for a political party, Mutahida Qaumi Moment (MQM). I questioned them about rigging but they misbehaved with me and started to run away."