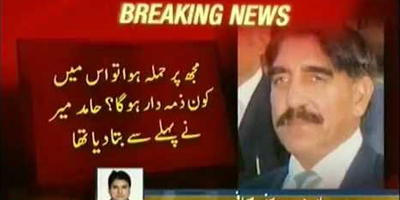 JournalismPakistan.com May 26, 2014
ISLAMABAD: More than one month after accusing the ISI and its chief for the murderous attack on presenter Hamid Mir, Geo Television Network finally apologized Monday for its editorial blunder.
In a front page apology, published in The News, Geo said that "after serious introspection, editorial debates, feedback and engagement with all parties, directly and indirectly, we have concluded that our coverage immediately after the tragic and unnerving attack on Hamid Mir on April 19th was excessive, distressful and emotional.
"Although the coverage was based on current media practice and chain of events, inclusive of ISPR version with photograph of DG ISPR broadcasted repeatedly with the news of the allegation, it was nevertheless seen as misleading, disproportionate and inappropriate giving the impression of a campaign," Geo TV Network said.
"This caused deep hurt to ISI as an institution, its Director General Lt. Gen Zaheerul Islam, members of his family, the rank and file of Armed Forces and a large number of our viewers. We deeply apologize for hurting them all."
Hamid Mir, host of program Capital Talk, was shot multiple times by gunmen in Karachi who still remain unidentified. He is currently recovering at his home in Islamabad.
Geo in its apology, which according to observers has taken long in coming, says that "in every relationship there are ups and downs and there are misunderstandings. However, we must move forward. Let us vow to work together within the Constitution and with respect for the rule of law so that we can together build a stronger and prosperous Pakistan.
The network said there will be detailed version in tomorrow's issue of the paper.
Dr Aamir Liaquat Hussain, Vice President of Geo TV had said earlier this month the channel will soon admit its mistake and apologize.