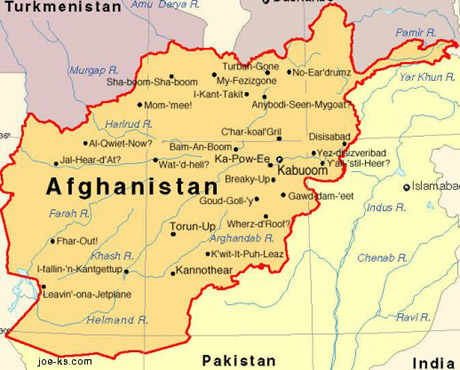 JournalismPakistan.com August 31, 2012 Rooh-ul-Amin

KABUL: Every year 'Press Freedom Day' is observed all over the world and challenges faced by the journalist community are highlighted. The day is observed in Afghanistan as well.


Nevertheless, the press in this war-wracked country is not what it should have been. There are a number of reasons that the press in Afghanistan is weak and this is the result of the dictatorial mindset of its officialdom, lack of knowledge and awareness as well as certain cultural and traditional restraints because of which one cannot report the way one should.


The ongoing war and the dependency of the media on foreign aid and donations too have retarded the development of a free press in Afghanistan.


During the past 10 years, one satisfactory development that has come about is that the media has indeed become a reality with the support of the international community. If this support was held back, journalism in Afghanistan would deteriorate into the sorry state it once was in.


There is no denying that press freedom plays an important role as a catalyst for social and political changes and that in countries where there is no press freedom there is no value of human rights and no accountability of government officials.


However, the dilemma in Afghanistan is that as the withdrawal of foreign troops picks up speed, the future of the media here is uncertain. What makes it even more doubtful is that the Taliban, who from the very outset have been against freedom of speech and freedom of choice, are not showing any signs of changing their outlook. If the Taliban do make a comeback, it would be a serious blow to the hard-earned press freedom in Afghanistan.


But we should be content in the knowledge that Afghanistan has made good progress in the media sector despite 11 years of war and violence. If we look at the incidents of killings and torture of journalists, Afghanistan comes fifth.


Egypt, Syria and Pakistan have topped the list where journalists faced more serious challenges and danger. In Pakistan, one cannot report on the tribal belt, bordering Afghanistan as the Pakistan army has put a ban on access to the area.

In Afghanistan, however, there is no area restricted to the media. This does not mean it is not dangerous to do so. In the aforementioned countries, the challenges usually come from both state and non-state actors while here, in Afghanistan, non-state actors are the bigger threat. This does not mean there is an absence of hurdles created by state actors.


With 11 years of foreign troops in Afghanistan, the killing of journalists has witnessed sharp increase. In 2011, four reporters were killed in Kabul, Urozgan, Hera and Laghman while an ISAF soldier killed a reporter in Trinkot city.


Besides these killings, land mines have caused the death of two reporters in Herat and Mehtarlam cities.


Despite these obvious hazards, journalists in Afghanistan are making good headway and continue to surprise. Their daring reports are worth appreciating despite constant self-censorship due to pressure and threats from influential government officials, land grabbers and smugglers.


We have learnt through media reports that reporters in Northern Afghanistan consider corruption and government land seizure the two most difficult issues to report on.


There are also a number of problems created for journalists by media owners, with lack of work, security and lack of insurance topping the list.


Such challenges need to be overcome. The government has to ensure access to information as it is from here that press freedom takes a start in the real sense. Without access to information the claim of press freedom is just a slogan.


Once the government ensures access to information, other challenges would give way and there would be a new era of change and development for freedom of speech. Until there are challenges created by government officials, the media cannot overcome the challenges created by non-state actors.


(The writer is a Kabul-based journalist. He writes for English newspapers in Kabul and Peshawar. He is also a documentary filmmaker and can be reached at: afghan.salman@gmail.com)