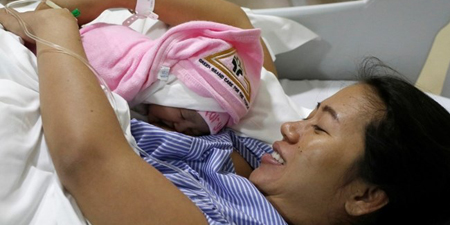 JournalismPakistan.com August 11, 2018


YANGON - The wife of imprisoned Reuters journalist Wa Lone, who is facing up to 14 years in jail in Myanmar for allegedly violating the colonial-era Official Secrets Act, gave birth to a girl on Friday.
Wa Lone, 32, and his colleague Kyaw Soe Oo, 28, have been detained since December accused of obtaining secret state documents in a case widely seen as a test of press freedom in the Southeast Asian nation.
Wa Lone's wife, Pan Ei Mon, gave birth in a Yangon hospital early on Friday to a girl, named Thet Htar Angel. She is the couple's first child.
"I've wished Wa Lone could be free since before I knew I was pregnant, and now I want him to be free even more," Pan Ei Mon, 35, said as she cradled the baby.
Wa Lone has been detained for most of the time his wife was pregnant.
A Reuters Special Report published on Wednesday traced the lives of Wa Lone and Kyaw Soe Oo, who were arrested while reporting on the massacre of 10 Muslim men in Myanmar last year.
The killings took place during an army crackdown that United Nations agencies say prompted about 700,000 people to flee to Bangladesh.
The Myanmar court hearing the case against Wa Lone and Kyaw Soe Oo is due to hear final arguments on Aug 20 and the judge, Ye Lwin, will issue a verdict in the following weeks.
The journalists have pleaded not guilty to the charges and have told the court how they were entrapped by police officials who planted documents on them.
Stephen J. Adler, President and Editor-in-Chief at Reuters, congratulated the couple on the birth of their daughter.
"While this should be a moment of great joy for them, it is sad and troubling that Wa Lone has missed being present at the birth of his daughter as he continues to be incarcerated on baseless charges.
"We will continue to do all we can to support them during this difficult separation and we remain hopeful that both Wa Lone and Kyaw Soe Oo will be released soon and reunited with their families." - Reuters