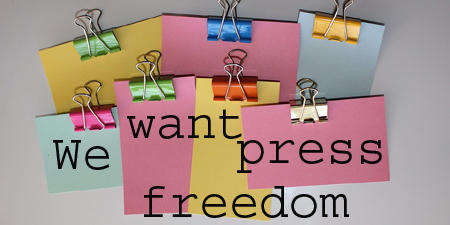 JournalismPakistan.com November 03, 2018


ISLAMABAD – Afzal Butt, President Pakistan Federal Union of Journalists (PFUJ) and Secretary-General Ayub Jan Sirhindi said on Saturday that November 3, 2007, was the darkest day in Pakistan's history when Gen Pervez Musharraf imposed emergency violating the constitution.
In a statement, they said that restrictions were slapped on the electronic media across the country and judges who refused to take the unconstitutional oath were detained.
They recalled that PFUJ launched a full-fledged movement across the country against these tyrant measures. Journalists from across Pakistan took part in the movement. Protest camps were set up for several months and due to this unique struggle, electronic channels were restored. Both Butt and Sirhindi termed those measures as a historic success of the PFUJ.
The two leaders said that the PFUJ always raised voice for freedom of the press, rule of law and civil liberties. Such exemplary struggles were also made for freedom of the press during the eras of Generals Ayub Khan, Yahya Khan, and Ziaul Haq. Those struggles, they pointed out, were the beacon of light in our history. PFUJ is still confronting unannounced censorship and black laws imposed on the press.
Butt said that on one hand the government and its agencies were putting pressure on the press while on the other, television channels and newspapers were dismissing staff. PFUJ is continuing its struggle against these unlawful and atrocious measures, he said.
The PFUJ leaders announced that journalists will continue their struggle until the press becomes completely independent. "Even today efforts are being made to introduce the Pakistan Media Regulatory Authority to impose restrictions on the press. We see this initiative as an attempt to gain control over the press and we will not allow any such effort to succeed. We will not accept any such law that is intended to gain control over the press," Butt said.
The PFUJ leaders said that in the past, a dictator had introduced a black law in the form of Press and Publication Ordinance, but the PFUJ carried out a long struggle against it and the government had to eventually withdraw that law. They said that like in the past, they will not hesitate in offering any sacrifice for the freedom of the press.