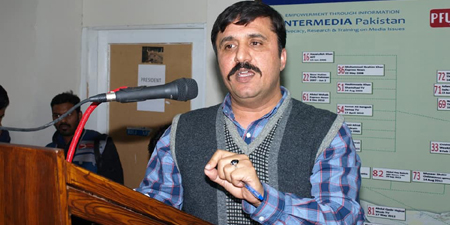 JournalismPakistan.com March 16, 2018


ISLAMABAD – Journalist Panel got elected unopposed after the rival Democratic Panel withdrew their nomination papers four days ahead of the Rawalpindi-Islamabad Union of Journalists (RIUJ) elections.
Mubarak Zeb Khan (pictured) was elected the president for a second term after his opposite number Chaudhary Muhammad Aslam withdrew his nomination.
The meeting was held at the National Press Club on Thursday to discuss the arrangements for the March 19 elections. However, following lengthy deliberations, Aslam announced the withdrawal of his entire panel's nomination papers.
Afzal Butt, President Pakistan Federal Union of Journalists (PFUJ), appreciated the Democratic Panel's decision and said that such show of unity would help strengthen the proposed country-wide sit-in due to start from April 9.
The following were elected unopposed:
President: Mubarak Zeb Khan
Vice Presidents: Nasir Usman Hashmi and Sagheer Ahmed Ch.
Joint Secretaries: Sheraz Gardezi and Ateeq Ur Rehman
General Secretary: Ali Raza Alvi
Finance Secretary: Asghar Ch.
Governing body: Habib Shah, Faheem Zubair Abbasi, Savi Khan, Younis Baig, Zia Al-Murtaza, M. B. Somroo, Ch. Muhammad Aslam, Alamdar Hussain, Abdul Jabbar, Tariq Ali Virk, M.Sohail Siddiqui, Shakeela Jaleel, Ahmed Nawaz, and Raja Adnan.