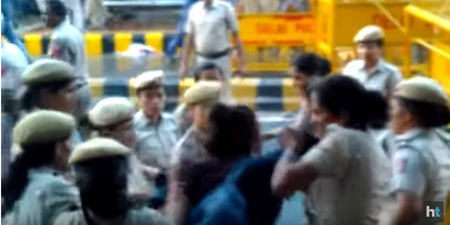 JournalismPakistan.com March 26, 2018


Delhi police assaulted two women journalists and snatched the camera of one while they were covering the demonstration organized by students and teachers of the Jawaharlal Nehru University in New Delhi, India on March 23. One male journalist was also beaten up and sustained injuries.
The International Federation of Journalists (IFJ) joined its affiliate the National Union of Journalists (India) in condemning the police assault on journalists and demanded an impartial investigation into the incident to ensure action against the responsible police officers.
Students had organized the march to protest against some policies, including the compulsory attendance rule and the removal of several department heads as also alleged sexual harassment by a professor. The police had halted the march before using water cannons and batons against the demonstrators, tearing the garments of women protestors and roughing up many.
Anushree Fadnavis, a photojournalist with The Hindustan Times daily, was roughed up and her camera snatched away by policewomen. "I was clicking photographs of a student being dragged when the police targeted me," Fadnavis said. "They were talking about snatching and breaking my camera. I kept pleading with them to spare my camera."
The police officer on duty also roughed up and grabbed another woman journalist by her breasts. The two journalists had filed separate complaints accusing the police of assaulting and molesting reporters at the site of the JNU protest. However, the police are yet to register First Information Reports (FIRs) on these complaints.
The Delhi Police on March 24 tendered their "deepest apologies" for the alleged harassment of two media personnel and on March 25 suspended two constables for their "unprofessional conduct," and said that the Vigilance Department would investigate the case of alleged assault.
The IFJ said: "The IFJ condemns the acts of the Delhi Police on women journalists and demands immediate action against all those involved in assaulting journalists. Attacks on journalists covering public events by the police are unacceptable and is against the principle of press freedom. The IFJ demands that the concerned authorities take measures to ensure that such incidents are not repeated in future and that journalists be allowed to report freely without fear." - IFJ media release/Photo: Screenshot Hindustan Times.