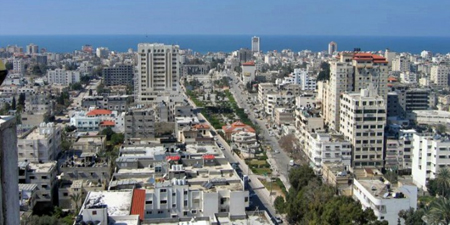 JournalismPakistan.com April 03, 2018


BEIRUT - Israeli authorities should independently and credibly investigate reports that Israeli security forces injured journalists covering protests in the Gaza Strip on March 30, the Committee to Protect Journalists said.
At least 10 Palestinian journalists were injured while covering mass protests on the Gaza border, according to the Palestinian Journalists Syndicate (PJS), the Palestinian press freedom group Palestinian Center for Development and Media Freedom (MADA), the regional press freedom group Center for Defending the Freedom of Journalists (CFJ), and news reports.
Thousands of Palestinians joined the protest in Gaza Strip on March 30 against Israel's refusal to allow Palestinian refugees to return to their pre-1948 homes, news reports said. At least 17 Palestinians have been killed and 1,400 injured in the protest.
"Journalists should be able to cover demonstrations without fearing for their safety," CPJ Middle East and North Africa Program Coordinator Sherif Mansour said from Washington D.C. "We call on Israeli officials to hold to account any security personnel who commit violence against journalists."
Freelance journalist Ahmed Salem Muammar was hit in his lower abdomen by a live round in an area east of the city of Khan Younis, according to MADA, the Palestinian Journalists Syndicate, and CFJ.
Muammar told MADA that he was leaving the site of the demonstrations along with his colleague Hatem Omar, a photographer for the Xinhua news agency, after having covered the protests when he was shot in his abdomen. "By chance, I was very close to an ambulance that took me to Nasser Hospital. There was 14 shrapnel in my lower abdomen, I underwent a three-hour surgery, where 30 cm of intestine was removed, bleeding was controlled, and I am still under observation in hospital," he said, according to MADA's website.
Wisam Mousa, photographer for the Deir al-Balah-based local radio station Fursan al-Aradah, was hit by live rounds in both legs while he was covering the protests from afar at the refugee camp of Al-Bureij, according to MADA, the PJS, and his employer.
"I was more than 400 meters away from the border fence, and while I was standing near the ambulances, I was deliberately targeted and shot with two live fire- bullets, one of which penetrated my right leg and came out of it, whereas, the other bullet penetrated my left leg causing a severe rupture in my leg muscle- just below the knee," Mousa told MADA.
Israeli Defense Forces did not immediately reply to CPJ's email requesting comment.
Hala al-Hassanat, reporter for the Gaza-based Nahar aews agency, told CPJ that she was covering the march at Al-Bureij refugee camp in the evening when Israeli soldiers began shooting at civilians. She ran away from the shooting and fell over a pile of stones, breaking her left leg. She was transferred for treatment to the Al-Aqsa Martyrs Hospital.
Mahmoud Adnan Mdouj, a photographer for the media production company Media Town, was hit by a live round in his right leg, which was broken as a result, while he was covering the protest march behind the protesters, about 500 meters away from the border fence, according to MADA and pictures posted on Facebook by other Palestinian journalists.
Ahmed Kafa, a photographer for the local news website Deir al-Balah Media, was injured in his right leg by a live round while he was covering the protests in eastern Khan Younis, according to the local press freedom group Journalist Support Committee, news reports, and his employer.
Journalists Amina Dabash, reporter for the independent news agency Media Field Unit, Mohammed Joudeh, reporter for the Palestinian Authority's official broadcaster Palestine TV, and freelance photographer Hussein Abu Khreis were hit directly in their legs by tear gas canisters in Al-Bureij, Rafah, and eastern Khan Younis, respectively, according to the PJS, news reports, and Facebook posts.
Ali Yousef al-Adwy, reporter and cameraman for the local Lajee TV channel, was hit by a bullet on his left leg, slightly below his knee, while he was covering the protests near the Gaza border with Israel, according to his employer, pictures of Al-Adwy posted on Facebook, and the CFJ.
For his part, Loay Nahd al-Ghoul, a reporter for Palestine TV, inhaled tear gas while he was covering the protests in eastern Gaza, according to the PJS and a post on his Facebook account. – CPJ news alert/Photo: Algemeiner