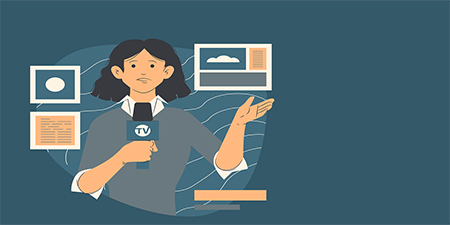 JournalismPakistan.com December 14, 2021 Cherie Conela



ISLAMABAD—Many Pakistani women journalists have played a pivotal role in redefining the media industry since the emergence of dynamic and vibrant electronic media. However, despite their contributions, acknowledged at several forums, the evolution of women's role in Pakistani media is not smooth and satisfactory.
The sudden increase in the number of women journalists after the advent of electronic media is slowly reducing due to the current media crisis, uncertain job future, lack of basic facilities in media houses, harassment, and noncompliance with labor laws in the media industry.
According to a report titled "Life as a woman in Pakistani journalism: THREATS, HARASSMENT and REJECTION" published by Freedom Network, less than 5 percent of the estimated 20,000 journalists in Pakistan are women. The report further disclosed that the number of female journalists has also increased since the start of the current millennium 2000.
However, there is a general perception in the Pakistani media industry that female journalists cannot cover complex topics and serious issues. For this reason, women's narrative and news coverage in journalism are limited to soft news and other comparatively less stressful beats.
"In the newsroom, women reporters are usually given assignments in the fields of weather, health, and education," journalist Iffat Hasan Rizvi. According to her, the management assumes that a female reporter who covers the weather is the best option to have a beat for health, human rights, NGOs, and education.
"Internationally, especially in the subcontinent, news coverage related to politics, court, and economy dominate the prime time," she further stated, emphasizing that in many cases, soft news is considered as unimportant fillers for news bulletins and the female journalists who file such news are even more insignificant than the news. However, this situation is somehow changing now.
The lack of professional women journalists at the management and leadership level is yet another serious issue globally. Recently, the Reuters Institute, in a factsheet, analyzed the gender breakdown of top editors in a strategic sample of 200 renowned news outlets belonging to ten different markets across four continents. According to the findings, only 23 percent of the top editors across the 200 significant outlets are women, even though, on average, 40 percent of journalists in the ten markets are women. "Every single market covered has many men among the top editors where women outnumber men among working journalists," it disclosed.
In Pakistan, several top-level management positions, including director news, bureau chief, and chief reporter, are held by male journalists. Commenting on it, Sabahuddin Qazi, Editor of Press Network of Pakistan (PNP), said that the main reason is somewhat discriminatory attitudes. Some people do not feel comfortable interacting and discussing issues in the presence of females. According to him, accepting the authority of a superior woman as a boss is another psychological issue in our society. Moreover, female journalists are generally reluctant to demonstrate their potential for important top positions. "Tireless work is required to sustain the leading role in the news industry," he emphasized, urging that women journalists need to build their confidence in this regard to meet the demands of the top-level jobs along with their family responsibilities. "Male journalists on top positions normally do not have such a problem," he said.
It has also been observed that prominent women journalists face discriminatory, abusive, and awkward remarks while performing outstandingly during their professional careers. "It is common to express unnecessary comments on the dress, make-up, lifestyle, and personal life of female reporters," Fauzia Kulsoom Rana, convener Women Journalists Association, said. According to her, while denying to recognize all the excellent work that women journalists are doing in journalism, many people discredit their success based on gender dissemination. "If a woman journalist's spouse, brother, or a close relative is also a journalist, then the credit for her success goes to the gentleman," she added.
In her documentary on the harassment of women journalists in the media industry, Oscar-winning Pakistani filmmaker Sharmeen Obaid Chennai also highlighted the difficulties and plight of prominent female journalists in Pakistan. The documentary features Khyber Pakhtunkhwa's first female bureau chief, Farzana Ali, who has been in journalism for 22 years. She described all the harassment and criticism she faced during her career based on gender.
Tanzeela Mazhar, once a prominent journalist associated with the PTV News, also featuring in the documentary, highlighted how shamelessly her boss at the state television harassed her.
The award-winning film also narrates the story of Farhat Javed, a renowned female journalist working for a foreign media house. Referring to the harassment, she alleged that her father was also abused due to her journalistic work when extremely inappropriate and obscene words were used against her family.
"The current situation of women journalists in our country cannot be considered favorable and encouraging for emerging young journalists," a female reporter said on the condition of anonymity. According to her, although women journalists are trying hard to make significant marks in the local media industry, they have not yet reached the top executive position of any media group. "Unfortunately, most of our press clubs, unions of journalists, and journalist bodies are also dominated by male office-bearers," she regretted, emphasizing that gender audit in every media organization is essential for improving the role of women journalists in Pakistan.
ENDS