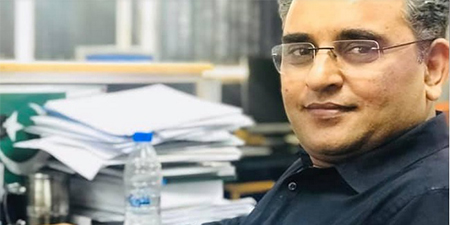 JournalismPakistan.com September 10, 2022


ISLAMABAD—An additional sessions judge in Rawalpindi granted bail before arrest until September 19 to journalist Waqar Satti of Geo News, against whom police had registered a blasphemy and defamation case.
Several journalists, including the President of the Pakistan Federal Union of Journalists (PFUJ), Afzal Butt, were present outside the court to show solidarity with Satti.
Butt thanked all those colleagues who had arrived at the court early morning and pointed out that the case against Satti was fake.
Satti's lawyer said the first information report was fake and unfounded.
The Geo journalist posted a video comprising quotes on social media attributed to former Prime Minister Imran Khan. According to the Committee to Protect Journalists (CPJ), those quotes were critical of Islam and the Quran.
Satti had deleted the video after facing severe criticism from social media users.
Authorities started the probe after a complaint by Chaudhry Nasir Qayyum, a public relations officer for Muhammad Bashrat Raja, a PTI party member in the Punjab provincial assembly, according to Satti.
Qayyum accused Satti of attributing "disrespectful" and inaccurate statements about Islam to Khan.
Satti said Saturday he was overwhelmed and humbled by the expression of solidarity by the journalist community, civil society, lawyers, and fellow Pakistanis. He said they stood with him against a fabricated, fake FIR by the Punjab government.
Earlier on Friday, PFUJ had urged the international bodies to intervene in the withdrawal and quashing of the FIR against Satti, which includes sections relating to blasphemy and defamation.