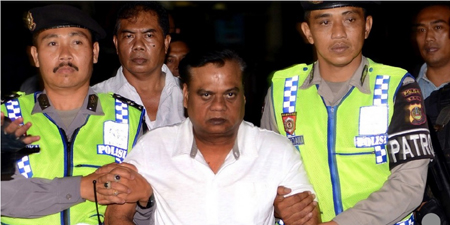 JournalismPakistan.com May 02, 2018


An Indian court on Wednesday sentenced notorious gangster Chhota Rajan and eight others to life in prison for murdering a journalist in a drive-by shooting in Mumbai seven years ago.
Jyotirmoy Dey, a crime reporter who specialized in gangland activities for the Mid-day tabloid, was shot dead in broad daylight on June 11, 2011.
Prosecutors said Rajan had ordered the hit because he was unhappy about negative articles that Dey had written about him.
A special court in India's financial capital Mumbai found Rajan guilty of ordering the contract killing of the 56-year-old.
The underworld don, who was appearing by video link from a New Delhi jail where he is being held, simply said "theek hai" ("OK") after Judge Sameer Adkar read out his verdict.
The court also convicted eight henchmen, including four shooters. They and Rajan, who is in his late 50s, were later sentenced to life imprisonment.
Prosecutor Pradeep Gharat had called for a life term, saying Dey represented "the fourth pillar of democracy".
"The punishment must act as a deterrent," he told the courtroom.
Reporters in the world's largest democracy often face harassment and intimidation by police, politicians, bureaucrats and criminal gangs.
More than 40 journalists have been killed in India since 1992, according to the US-based Committee to Protect Journalists.
The judge acquitted two others of involvement, including a female journalist who had been accused of conspiring with and abetting Dey's killers.
Jigna Vora, who worked for the Asian Age newspaper, was accused of passing on Dey's home address and motorcycle registration number to gangsters working for Rajan.
She maintained her innocence throughout the trial and broke down in tears following her acquittal on all charges.
Police said Rajan's gang followed Dey and shot him five times from behind near his home in the northern Mumbai suburb of Powai.
Officers said the gang was paid Rs500,000 (US$11,000) for the killing. They fled to towns around the country in the aftermath, where most of them were arrested.
Mid-day said at the time of his death that Dey was "a victim of his fearless journalism".
His murder provoked outrage among Indian journalists, hundreds of whom took to the streets of Mumbai to demand greater protection from the state government and a swift inquiry.
Rajan, whose real name is Rajendra Sadashiv Nikalje, was once one of India's most wanted men and is accused of dozens of gruesome crimes.
Wednesday's ruling was his first major conviction since he was deported from Indonesia in October 2015 after two decades on the run.
Rajan was allegedly the right-hand man of Mumbai crime boss Dawood Ibrahim before an acrimonious split following the 1993 bomb blasts in Mumbai that killed 257 people.
Wednesday's verdict came a day before World Press Freedom Day. - AFP