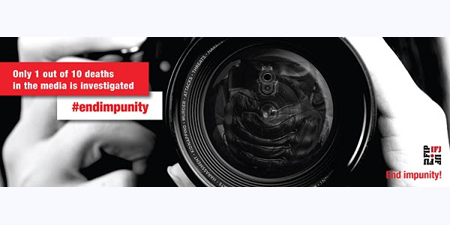 JournalismPakistan.com October 31, 2017


BRUSSELS - The International Federation of Journalists (IFJ) 2017 campaign to end impunity kicks off on November 2 - the UN Day against impunity for crimes targeting journalists.
The 2017 campaign, to last until 23 November - the eighth commemoration of the Maguindanao massacre which claimed 32 journalists' lives - calls for strengthening the international legal framework and national protection mechanisms to ensure greater media safety. It focuses on seven countries Mexico, Pakistan, Afghanistan, Iraq, Yemen, Somalia, and Ukraine.
While the UN Day to end impunity for crime against journalists by the United Nations General Assembly in 2013 has helped put the issue of media protection on the international agenda, the IFJ has expressed its concern that there have been no concrete measures to investigate incidents of violence against journalists in many countries around the world.
"The levels of violence in journalism around the world make a mockery of the high-minded intentions behind initiatives such as the UN Day to end impunity," said IFJ President Philippe Leruth. "As long as they are not acted upon by holding accountable those who commit these crimes, there will remain an open season on journalists and media professionals."
According to IFJ statistics, 56 journalists have lost their lives while carrying out their duties since the beginning of the year. Today only one out of 10 killings of journalists are investigated. The situation for non-fatal attacks on journalists is even worse. Governments fail in their duty to hunt down the harassers, the attackers, the killers of media workers. Impunity not only endangers journalists, it imperils democracy and compromises hopes for peace and development.
"Legal guarantees exist for the protection of journalists as civilians which states are duty bound to enforce under domestic and international law", said Leruth.
To this end, the IFJ has made a number of propositions at a consultation meeting on the safety of journalists convened by UNESCO and the Office of the High Commissioner for Human Rights on June 29 in Geneva. They include steps to strengthen the international legal framework related to journalist safety to account not only for the professional risks that journalists and media workers take but also for the unique value of journalism in strengthening the rule of law.
The IFJ has also supported outreach programs to engage other stakeholders, such as law enforcement agencies, prosecutors, and judges on the role of journalists and their own contribution to its promotion for the good of society. It also argued in favor of protection mechanisms which have the confidence of journalists and their organizations to provide safety to those whose lives are at risk on account of their professional activities.
The latter is at the heart of the IFJ campaign in Mexico, where the Federation is engaging the European Union institutions to leverage their influence as Mexico's partners in ensuring the national protection mechanism for journalists fulfills its role in one of the most dangerous countries in the world for journalists.
"We believe that the European Union has a part to play in putting pressure on to respect basic human rights, including press freedom. That is why we are urging the EU to work with our affiliate, the SNRP, and civil society to ensure Mexico's protection mechanism for journalists is fit for purpose," added IFJ Secretary General Anthony Bellanger. – IFJ media releas