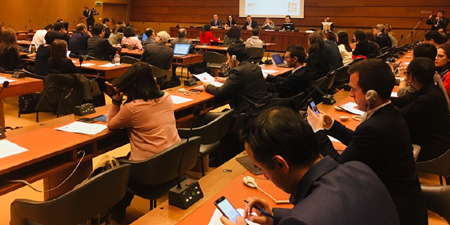 JournalismPakistan.com March 16, 2018


BRUSSELS - The International Federation of Journalists (IFJ) has backed a call by the Director of the BBC World Service Group, Jamie Angus, on the Iranian authorities to stop the harassment of BBC Persian journalists in London and their families in Iran and appealed to the authorities to discuss any grievances they may have about the BBC Persian Service coverage.
BBC Persian staff and their families have come under sustained harassment and persecution from the Iranian authorities for the last nine years.
The call came at a meeting hosted by the IFJ at the UN Human Rights Council in Geneva.
Jamie Angus said: "I invite them to come to speak to us at any time and any place. In public or in private." Angus emphasized that Iran should raise any editorial complaints with the BBC and that "the persecution of BBC Persian families and their staff is unacceptable."
The UK Ambassador to the UN, Julian Braithwaite, also called on Iran to cease all action against the BBC staff and their families, and end its harassment of independent journalism. "Freedom of expression and of the press is a hallmark of an open society," he said.
Speaking via a video message the UN's Special Rapporteur on Freedom of Opinion and Expression, David Kaye, said it was clear that for the Iranian authorities any affiliation with the BBC is a crime; "Iran should cease all legal action against BBC Farsi staff and their families and cease the use of repressive legislation against independent journalists whether affiliated to the BBC or not."
Jeremy Dear, IFJ Deputy General Secretary, said, "Iran stands condemned – for its human rights abuses, for jailing journalists, for those forced into exile, for those barred from returning, for the arbitrary arrest, detention, intimidation and harassment of media workers."
"And today Iran stands condemned for its collective punishment of BBC journalists, for its calculated targeting of journalists families in an attempt to silence media. We have no other option but to stand up and speak out to stop the harassment of BBC and all Iranian journalists," he added.
Caoilfhionn Gallagher QC, counsel for the BBC World Service, said: "Harassing journalists and accusing them of espionage for simply doing their jobs is not a new tactic. But targeting family members and their sources, and taking this across borders, is new and deeply concerning."
Journalist and human rights campaigner Maziar Bahari recounted his own experiences in Iran: "I was arrested for doing my job in 2009 when I was a reporter for Newsweek magazine and making documentaries for different channels in the UK. During my interrogation I realized that doing my job as a reporter was my only crime."
On Wednesday this week, a senior correspondent with the BBC Persian Service and NUJ member, Kasra Naji, delivered the first ever appeal to the UN Human Rights Council on behalf of his colleagues. He addressed the Council and said: "When security forces arrested a 27-year-old woman in Tehran and took her to Evin prison, her captors contacted her sister in London, one of my colleagues in BBC Persian, with an ultimatum: Stop working for the BBC, or at least spy on your colleagues for us, in return for the release of your sister. When she refused they kept her in solitary confinement for 17 days."
Naji also highlighted there are many other cases of persecution and harassment and Iran has escalated its attacks on BBC Persian staff, "by accusing 152 present and former BBC Persian staff of conspiracy against national security, and freezing their assets." He described this latest act as an "unprecedented collective punishment" and a "mass assault on freedom of expression." – IFJ media release/Photo: Sarah Kavanagh/NUJ