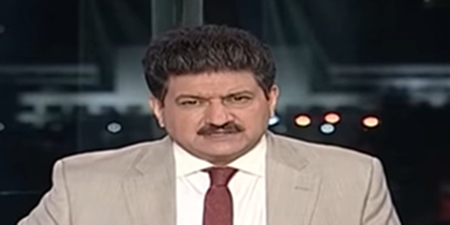 JournalismPakistan.com June 29, 2021


ISLAMABAD—Prominent journalist Hamid Mir in his recent article has termed Islamabad as the most dangerous city for journalists in Pakistan.
In a tweet, he asked: "Why Islamabad is the most dangerous city for journalists in Pakistan?"
He said that his column was recently published in Bangladesh's popular newspaper Daily Naya Diganta, being published since 2004.
"It was 17 March 2021 when a murder attack was made on a young journalist, Ajay Kumar Lalwani, in Sukkur. Three bullets pierced his body. The injured journalist was taken to a hospital but he had lost the battle of life. Lalwani used to work for a TV channel and he also wrote for a local newspaper," Mir wrote in his article, published in Bengali language.
He highlighted: "On 16 Feb 2020, the body of journalist Aziz Memon who was working for a Sindhi TV channel was recovered from a local canal in Mehrabpur. Police declared the incident a suicide case. Media persons dismissed the police report saying it was not suicide, it was a murder."
"In March 2018, journalist Zeeshan Ashraf Butt who was associated with daily Nawa-i-Waqt was riddled with bullets in Sambrial. Moments prior to the attack, Zeeshan was calling the police and disclosing the name of the man who was going to murder him when the shots were fired that finished him," Mir regretted.
"On 23 July, 2020, a journalist Anwar Jan Khethran was shot dead in Barkhan area of Balochistan. In the FIR, a provincial minister belonging to Barkhan was nominated as an accused. But police contended to arrest a bodyguard of the minister and let the real culprit go scot free," he wrote.
"How many incidents should I discuss? How many anecdotes of bravery and courage shown by journalists should I relate?"
"From Geo's correspondent Musa Khan Khel in Swat to ARY correspondent Abdul Haq Baloch in Khuzdar, we know their killers. But we failed to provide them justice. Journalism is a dangerous profession in Pakistan."
Mir, in his article for Bangladeshi paper, also mentioned the recent report of the Freedom Network Pakistan, according to which from May 2020 to April 2021, 148 attacks were made on journalists, which is 41 percent higher than the previous year. Islamabad, according to the report, tops the list of attacks on journalists followed by Sindh and Punjab.
"The [FN] report has declared Islamabad the most dangerous city for media persons," Mir highlighted. "Surveillance cameras are installed at every corner of Islamabad. But it is strange when Matiullah Jan is kidnapped or Ahmed Noorani is attacked, these cameras automatically stop working."